Past Entry of Zippy's Telecom Blog
December 14, 2009
America and Europe Take Notice as Next Generation Data's Preeminent Data Center Opens for Business in Wales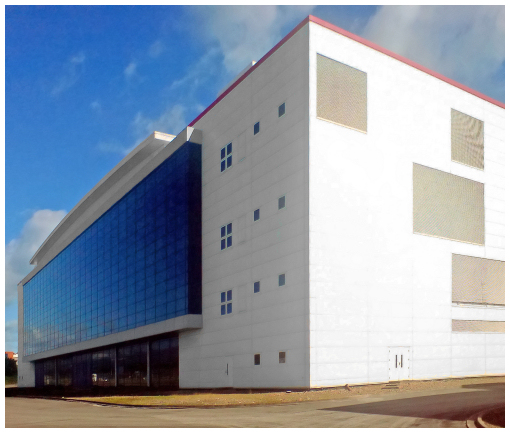 One would have to do a lot of digging in libraries to unearth the last time a serious American technical editor or journalist used the word "stupendous" in print. In today's world of transient technical feats and three-day wonders, there seems to be little that can evoke true astonishment among the usual round of world-weary, skeptical and otherwise jaded readers.
But now Next Generation Data has come along, unveiling in the picturesque countryside near Newport, Wales, a truly stupendous Tier 3 data center, a gargantuan 75,000 square meter (807,300 square foot) fortress of data, almost certainly the largest, most resilient, most secure and most technologically advanced building of its type in Europe. Known as NGD1, it can house 19,000 racks of servers. It can call upon 180 Million Volt-Amperes of power if needed. It offers unparalleled connectivity, flexibility, scalability, reliability and manageability, not to mention superb customer service and support.
As the saying goes, "Ten pounds of dough does make a big biscuit."
Who is the mastermind behind this extraordinary £200 million undertaking? Actually, there are two. One of them, Next Generation Data's Chairman, Simon Taylor, happened to be visiting New York City on December 2nd, 2009, where I had the pleasure of interviewing him and his Welsh compatriots extensively concerning this cyclopean construction and their plans for it.
Taylor is responsible for managing the growth and direction of Next Generation Data. Under Simon's leadership, the company is set to become the data center of choice for "blue chip" companies across Europe.
A serial entrepreneur, Taylor has invested heavily in the telecom industry over the past 20 years. Most recently, he co-founded with his business partner, Nick Razey, Saiph Communications, which focuses on VoIP solutions for corporate customers.
Prior to this, Taylor was one of the founding members of Interoute Telecom where he focused on the company's product business (later renamed Telecom FM) which became a significant design and development company supplying routers and remote management technology to some of Europe's largest telcos. Taylor has also been instrumental in the formation of Floe, N Quire and now Next Generation Data. He actually began his career with Toshiba Information Systems and then joined Cable & Wireless where he was responsible for data products throughout Europe.
Taylor attended TVU in London, where he graduated in Management.
Taylor's partner, Nick Razey, is Chief Executive of Next Generation Data. He has overall responsibility for the strategic development of the company. NGD has a specialist design and management team who have built data centers for some of the worlds leading organizations. Razey has more than 25 years of experience in the telecom industry. Most recently, he co-founded Saiph Communications, where, together with Simon Taylor, he leveraged the emerging IP telephony market to create one of the UK's most successful pure VoIP providers. Prior to this, Nick founded Interoute Telecommunications, an international telecoms company which achieved a turnover of over £200 million in just four years.
A sharp investor, Nick has funded and built a luxury hotel in Brazil. Nick has a first class degree in Pure and Applied Physics from Nottingham University and an MBB in international business from City University.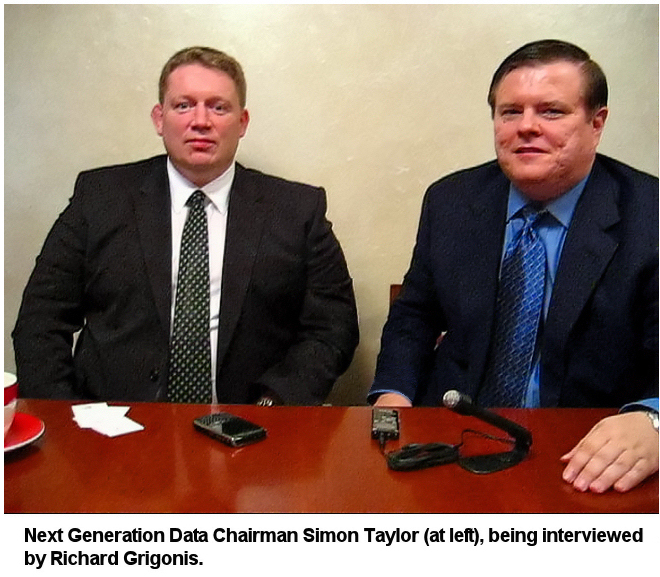 Richard Grigonis: So tell me, how did this enormous project come about?
Simon Taylor: The history behind this project is that in 1996 the Welsh government and LG put in a huge amount of money—a £1.7 billion investment including £131 million of grants from public bodies in Wales alone—to build a huge manufacturing plant in Newport, south Wales that was completed in 1998. At the time it was acclaimed as the largest single inward investment ever seen in the UK—or Europe, for that matter. As a result, a superb business park was also constructed. The principal facility is quite remarkable with triple-skinned walls and earthquake-proof constructions. Quite frankly, it's the best building I've ever seen in terms of the strength of its construction.
The whole extensive project was 95 percent finished when LG had to pull out of the deal at the '11th-and-a-half hour'. A £1.2 billion sister factory on the site, which was to make semiconductors, never went into production and remained empty. The Korean stock market had collapsed, and LG and some of its fellow companies were technically insolvent and they had to restructure over the next two or three years, by which time this huge factory was built but not occupied. It was politically a hot potato, because it was supposedly going to create 6000 jobs. But what happened, happened, and what could they do?
The long and the short of it is that LG survived, restructured and refinanced, but the Welsh government was in a bit of an unfortunate situation because LG had put so much money into the project that they wouldn't allow the Welsh government to release this park for any other usage. That situation went on for a few years, but things were eventually sorted out.
Around this time I was searching throughout the UK for a suitable datacenter. I'm Welsh, so I naturally preferred that it be situated in Wales.
So I started looking at Wales and I discussed the matter with some friends of mine in the Welsh government and they arranged a trip so that I could inspect the LG facilities. At the time I knew nothing about either LG or the site's history. I thought they were going to show me a coal mine or a steel works, because Wales is very famous for heavy industry and wherever there is heavy industry, there can be founds loads of power, and of course I needed quite a bit of power for the data center.
When I arrived they drove me to a vast building—75,000 square meters, or about 807,300 square feet—and asked me if I wanted it. I looked at it and my first thought was—my goodness, how am I going to maneuver such a huge project through a board meeting for approval? I feared my board would look at the sheer size of the thing and laugh. But the Welsh government suggested that if we could agree to a collaborative effort, they would allow us to draw down the rent, adjust various rates and other items, thereby making the whole undertaking very economically enticing. I agreed, took the proposal back to London, spoke to our bank, initiated a due diligence exercise, and now we've basically taken control of the building.
What we now have is probably the largest data center in Europe. We've got two signed "anchor tenants" which are BT and a very large international systems integrator. We hope a major US bank and an international aerospace firm will follow suit.
Richard Grigonis: Is this data center following a "cloud-type" approach?
Simon Taylor: It can be so. BT has occupied it because they realize that for years they used to get orders for 50 racks of equipment and they'd say, "Well, that's too small for us to pay any attention to," and they'd give them away to partners, or one of a number of value-added resellers in the United Kingdom. BT soon realized that by doing so they were giving away £60 to £80 million away a year in profit margin. So BT is helping to promote this new data center nationally in the UK, to sell to companies that want just 5, 10 or 15 racks of equipment. Now we've got our pricing right with them so we can all enjoy a very good margin, and yet they're very competitively-placed in the market.
In the case of the systems integrator, they are about to take space in the data center too, but I'm not at liberty to say who exactly their clients are, other than to say that generally they have government dealings.
We're talking to various major companies about cloud and grid-type computing. But I must be extremely careful in discussing such matters. Many companies have confidential arrangements with their clients, and many of them naturally do not want their competitors to know what they're up to. I have been given permission to mention BT, and we are about to widely distribute a press release about the systems integrator taking up space in our center. But the integrator is just allowing us to reveal their name as simply being a client—end of sentence. Similarly, the US investment bank has told me that they are prepared to say that they are, or potentially are, a customer of ours, but they cannot promote the center beyond that.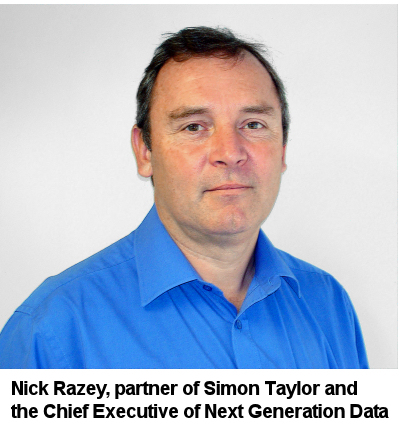 Richard Grigonis: Yes, I can recall being given a tour of a huge call center outside of London in 1995, and part of it was walled off with glass. That section was used by Microsoft, presumably for European support of their products. But I was told I couldn't photograph it, or even mentioned that it existed at that particular location.
Simon Taylor: Indeed, we have this fantastic commercial organization and property, but we're not allowed to really "sing from the treetops" about with whom we deal.
The underlying story is that we've gone through planning permission, change-of-use, and all of those other bureaucratic hurdles that one must jump over in the case of an immense project of this sort. Many people don't realize that, apart from the millions of pounds in investment, obtaining planning permission to change something that size into a data center is not a straightforward matter in the UK, for a number of different reasons. But the government of Wales did a great job on our behalf.
If we manage to fill our data center building to the rafters, this project has the potential to become Wales' biggest company. As I said, I'm Welsh, and part of my raison d'être is to the raise the profile of Wales itself, just like my fellow countryman, Terry Matthews. [Note: Sir Terence Hedley Matthews, founder of Mitel and Newbridge Networks, is a serial high tech entrepreneur and Wales' first billionaire.] I believe that Wales is a good bet for the high tech industry. I also think that Wales doesn't get enough kudos and credit for what it has done, particularly in terms of the help they've provided us in our long journey to put a very complex project together. We've had to deal with formalities concerning commercial property, regulatory matters, and all sorts of areas involving the Welsh government, and everyone there has been fantastic. I live in London, and while working on some of my previous projects I had a somewhat tougher time dealing with the central government. Wales, on the other hand, has been extremely efficient and cooperative.
Richard Grigonis: This is such an amazing undertaking. Did you use much native talent in devising this project, or did you bring in outsiders?
Simon Taylor: I can say that, on the senior management team, I'm Welsh, the fellow who runs the data center is Welsh, and we've made a conscious decision to employ all Welsh subcontractors—there are 80 or 90 now on site, building away. We've also started to employ local talent to work in the center. At the moment, we're taking on probably three or four people a month, and they're all coming from Wales. All of our security guards from the area are security-accredited and are also ex-Army, including a SAS [Special Air Services] fellow.
In short, we're very proud of what we've got and we're proving that what we've got works, because we've contracted now with two leading global companies, and we're about to contract with two more. Now that we've got the UK working and represented in this project, I would like to develop the American market.
Targeting the American Market
Richard Grigonis: Are you on a worldwide search for customers? Or are you primarily searching through America and Europe?
Simon Taylor: Europe and America, primarily. I haven't really considered going further afield yet. At present, my real focus is America. I really would like to crack this market and garner the business of some of the giant firms found in the US. Pricewise, I believe we can be mind-blowingly competitive. That's good, because what I'm encountering is as follows: There is a growing trend by the Googles and Microsofts of the world to establish facilities in areas that offer them tax credits—places such as Scandinavia and Iceland keep coming up in their deliberations. It's interesting to note that the companies with the biggest bank balances are more astute and intensive in terms of bargaining than many smaller companies, which have far more to lose if they are lax in their negotiations.
Security Par Excellence
Richard Grigonis: Americans not just looking at costs and tax rates these days. Since 9/11 they also have security concerns.
Simon Taylor: That's why we've spent a fortune on "enabling works" to change the nature of our building from a factory to what you might lightheartedly refer to as a "prison" for data servers. We've got prison-grade fencing and all sorts of high-end security technology. If even a badger managed to crawl onto the grounds, he'd be in serious trouble. We've installed bomb-proof glass in front of the building. We're hired some really top-notch, highbrow security experts concerning each stage of the design, so much so that we will be given "List X" accreditation. [Note: List X is the British term for what the rest of the world knows as "FSC — Facility Security Clearance". The term refers to contractors or subcontractors which have been formally placed on List X because they are undertaking work marked CONFIDENTIAL or above "on the Company Premises". List X is not available on request; it has to be "sponsored" by a Contracting Authority (CA) such as an existing List X government contractor, certain UK Government Departments, overseas governments and defense contractors, and NATO.]
We've done that so that the government can provide acreage around the building to give us some room so as to fortify the location. You see, we've placed the data center within a highly secure compound. The perimeter security includes a high specification fence that we've installed that goes at least a meter below and 4.5 meters above the ground. Then there's a secondary virtual fence line based on an inner circle of infrared detectors, numerous anti-ram raid bollards, sophisticated double airlock gates and Automatic Number Plate Recognition [APNR] cameras and Pan-Tilt-Zoom [PTZ] cameras—as their name implies, such cameras can pan (move left and right), tilt (move up and down), and zoom in or out. Additionally, there are PTZs that can rotate 360 degrees and view an object directly below them. The building itself has 300 millimeter reinforced concrete walls.
For general access to the building, there are three security checkpoints and full access control including biometrics and 24/7/365 closed-circuit TV monitoring enforced by an in-house guard force with all of the appropriate high security clearances. Beyond that, data floor access is protected by various photographic, PIN and card combination entry schemes. To access the facility you need not only an authorized users' access card but also a matching unique code. Once you're inside, you soon discover that the individual data halls and suites are all separate locked areas within the data center proper.
We have ISO/IEC 27001 accreditation [Note: formerly known as BS7799-2] which requires that we systematically examine our information security risks, taking account of the threats, vulnerabilities and impacts; design and implement a coherent and comprehensive suite of information security controls and/or other forms of risk treatment such as risk avoidance or risk transfer to address those risks that we find to be unacceptable; and that we adopt an overarching management process to ensure that our information security controls continue to meet our organization's information security needs on an ongoing basis.
We also have CESG Claims Tested Mark [CCTM] certification from CESG [Communications-Electronics Security Group] which is part of the Government Communications Headquarters [GCHQ] in Cheltenham. CESG is the UK government's National Technical Authority for Information Assurance. The CCTM scheme provides a HM Government quality mark to assure public and private bodies of the validity of security functionality claims made by service vendors and providers concerning their solutions for data confidentiality, integrity and availability in the modern government IT environment. It short, it assures customers that we can do what we claim.
You know, not only do we have a staggering number of closed-circuit TV cameras affixed to the finished building—it's in the thousands—but you should see the number of servers we use to store all of the video they generate. The building as a whole can house 19,000 racks for customers. It's all quite extraordinary, really.
Power, Power Everywhere
Richard Grigonis: Are there particular brands of server being used in your data center? Or is that matter up to your clients?
Simon Taylor: The choice of server equipment is not really our interest. We supply the building, power, security, and connectivity. One interesting thing about this project is that in the UK, the biggest shortage is not so much in the number or size of the buildings; instead, a there's a considerable deficiency in being able to secure a facility, and there's an even bigger shortage in terms of electrical power. When this plant was built for LG, National Grid Plc built a power station for it. We have now taken control over this impressive power station, which is why we have available an immense amount of power—180 MVA, or Million Volt-Amperes. [Note: VA is voltage multiplied by current. In the case of direct current, the figure is equal to Watts. In the case of alternating current, the figure differs slightly from Watts, since voltage and current can be out of phase.] Next Generation Data also has a private distribution network sourced directly from the metering breakers in a primary substation for the super grid which is located within a mile of the site. Thus, we maintain complete control of the entire power train. There is also an onsite backup generator. The entire system is supported by intelligent power distribution units with monitoring done down to the circuit level.
We can provide almost unlimited power to each rack in the data center, and we offer N+1 Uninterruptible Power Supply [UPS] resilience, and 2N+1 high availability is achievable for dual power racks.
UK companies are going to be taxed on energy usage, but they will receive tax credits for using "green" power. Given these facts, we will purchase the entirety of our energy source as "green" in origin from our supplier. That means that the power supply is not generated onsite; it's generated wherever in the country where one can find "wind farms" or whatever. Green power is normally a bit more expensive than power generated through traditional means. However, we have our own transformer substation, so we have no transmission issues. We save sufficient power to remove a sizeable part of the costs from our power budget equation—so much so that we can afford to "buy green" and yet remain "dead-on competitive" in the UK market.
Another factor in our favor is that London has been selected to host the 2012 Olympic Games. Any excess power that's left in London during that time will be diverted to the Olympics, so local data center efforts in Wales will have to deal with us for power.
As Cool as the Other Side of the Pillow
Richard Grigonis: Then of course there's the matter of the amount of power necessary to cool equipment racks of high density, and the degree to which the rackmount equipment itself will be energy efficient.
Simon Taylor: Both cooling and power belong to our part of the overall equation. We've standardized on Schneider Electric equipment throughout our facility. Their equipment is as "blue chip" as it comes. Architecturally, we've divided the building into 25 slots or "zones". Each one of our 25 halls is about the size of most people's entire data center. We can vary the type of cooling in each zone as the customer requires. Customers can have free air cooling, or liquid cooling, or a mixture of technologies; basically any arrangement you can think of. All of the cooling configurations are designed to meet contemporary high density requirements. The zoned monitoring system constantly monitors temperature, humidity and is capable of digital refrigerant leak detection.
Operationally, we will maintain the environments at 24 degrees Celsius plus-or-minus 2 degrees, with humidity at 50 percent, give or take 10 percent. Environmental temperatures are maintained by highly energy-efficient free cooling chillers with a resilient diverse manifold system to the Computer Room Air Conditioners [CRACs] which are run in an N+20 percent configuration.
Cooling within the data halls is provided via downflow units.
The infrastructure supports in-row cooling at 3 kilowatt-hours [kw] per rack up to 60kw per rack. Options include LD air cooled, HD air cooled, cold aisle containment, full cold aisle and roof containment, hot aisle containment and fan assisted racks.
Onsite Scalability and Flexibility
Simon Taylor: When we started formulating the master plan for this facility, we knew that BT would want something different than what a systems integrator would want, and the integrator would want something different than what a major bank wants. So what we've tried to do is to create a standardized master plan compatible with the equipment and the specifications that these companies would normally use, which provides flexibility so that the accommodations can be finished quickly and easily.
Richard Grigonis: You start out with a basic sort of "template" and then that can be customized by the customer?
Simon Taylor: Yes, we allow sufficient flexibility so they can add their own "bells, whistles and blinking lights," or whatever. When it comes to the specifics of the equipment, all I can tell you is that we've got our first clients. We can only build so much at a time, because of the physical build time for major customers and partly because of the time it takes to obtain the desired key components available on the market. But we are building out as fast as we can. A key aspect of all this is that, a couple of inquiries that we've received concern "blade computing" environments and supercomputing environments.
One of the inquiries we're working on for next year is for something called JANET. Janet in the UK is the combined university infrastructure wherein London University can share data with Swansea University while engaging in joint research. It's a high bandwidth, massively high-powered network. [Note: JANET, or Joint Academic NETwork, is a private British government-funded computer network dedicated to education and research. All further- and higher-education organizations in the UK connect to JANET, as do all the Research Councils; the majority of these sites are connected via 20 regional area networks across the UK. The network also carries traffic between schools within the UK, although many of the schools' networks maintain their own general Internet connectivity. JANET is operated by JANET(UK), formerly known as UKERNA (the United Kingdom Education and Research Networking Association), who are also responsible for the .ac.uk and .gov.uk domains. JANET is funded by JISC, the Joint Information Systems Committee.] They say they need something like 22 MVA of power for their project, which is splendid for us, since no one else in the UK can supply 22 MVA.
Richard Grigonis: I take it that you'd prefer a customer who wants something more than a single rack. Is there a smallest "acreage" to buy, from your perspective?
Simon Taylor: We're into the wholesale side of the market. The numbers vary a bit, but I think about 250 to 300 racks is the lowest number we would consider, because the way it works for us is as follows: We've put all of the equity financing into the project thus far, which is a huge amount of money. We have to go to our bank and say, okay, we're building this specific type of environment for this particular client, and they're only interested if it happens to be a scalable deal. They won't make a move unless we're talking about £3.5 or £4+ million per environment. So, as I say, we're only doing wholesale—we have no ambitions to offer managed services, because if we did, we would be competing with our own customers. Quite honestly, I simply want to stuff this huge building with global blue chip names, not just UK companies.
But seriously, if one of our associates rang up and said, "Look here, a company in New York is moving into Wales to develop some software and they would like to reserve five racks in our data center," then I would find them their five racks, but it would be in BT's space. It would be a subdeal. BT is open for business and they are priced to let the small businesses in too. The systems integrator is a different matter, and won't let anyone into their space unless it happens to be one of their customers, since they handle UK government business.
Connectivity Du Jour
Richard Grigonis: I take it that you have redundant bandwidth going into and out of this facility so that you're able to handle technical problems, natural disasters and such.
Simon Taylor: Oh yes. We've got fiber coming in from BT, Cable & Wireless and NTL in the UK. We maintain carrier neutrality with interconnect points for each of the major carriers. All of these carriers are flexible and are capable of installing multiple gigabit-per-second data pipes along relatively quick time scales that can ultimately connect to the rest of the world. Moreover, we're having a submarine cable from the US come ashore at Hybridge, in Somerset, so we've got a transatlantic link as well offering direct international connectivity to America. We therefore enjoy considerably diverse and resilient connectivity options. A customer can choose from among dark fiber, 10 gigabit per second long-range optical Ethernet and multi-homed IP transit services. Additional major carriers have been looking at our site and we are investigating the idea of obtaining bandwidth from them if we can agree to do some business.
The building itself has four independent site entry points, with multiple ducting routes supporting separate carrier cables. We have two physically separate and independent "Meet Me Rooms" per floor, and secure cross-connects and connection raceways can be found throughout the building.
To Sync or Not to Sync?
Simon Taylor: There are two major aspects to the data center market. There's something called synchronous replication and then there's non-synchronous replication. Both techniques involve replicating data to a remote secondary site.
To explain synchronous replication, consider a trading floor in a city such as London. Because of the way the regulations work and the rules they have to follow, if you happen to be buying £20 billion worth of oil from BP, that transaction is time-critical, and yet the transaction must be almost instantly backed-up in case some sort of failure occurs.
As its name implies, synchronous replication ensures that a remote copy of the data, identical to the original "primary" copy, is created almost instantly after the primary copy is updated. First data is written to the primary storage system, then data is written to the remote system, and then the remote storage system sends a write acknowledgement back to the primary or host unit. That last part is very important—in synchronous replication, an Input/Output update operation or block level data transaction is considered finished only when completion is confirmed at both the primary and remote mirrored storage sites. The host application simply will not proceed until the data is successfully committed to all storage systems. If during this process a problem occurs, the resulting incomplete operation is rolled back at both locations, guaranteeing that the remote copy is always a precise mirror image of the primary copy.
As it happens, synchronous data replication involves some exquisite timing issues, and for this reason, it is extremely sensitive to network latency and bandwidth. The ultimate shortcoming of synchronous data replication is latency resulting from the propagation delay associated with the speed of light, which is 300,000 kilometers per second in a vacuum or about 200,000 in optical fiber. The propagation delays increase as the distance to the remote storage site increases, or about 1 millisecond for every 200 kilometers.
The laws of physics thus impose a "distance limitation" on synchronous data replication.
Most equipment vendors will tell you that the safest practical distance between the primary system and a remote data center is somewhere between 35 to 50 kilometers or 20 to 30 miles. This distance is obviously not sufficient to protect data in the case of an extensive, catastrophic natural or man-made disaster.
For greater distances, some sort of non-synchronous data replication process is called for, such as asynchronous or semi-synchronous data replication.
We were never interested pursuing the synchronous replication market. We really were interested in non-synchronous replication, used for such things as disk-to-disk backups, helping companies to comply with Sarbanes-Oxley, and so forth. Our research indicates that whereas only 15 percent of businesses demand synchronous data replication for certain specific processes, 85 percent of businesses use non-synchronous data replication techniques for the vast majority of their online and offline processes. Hence, our data center in Newport, Wales, is capable of capturing a great deal of this potential market.
You know, engineers are an incredible breed. Britain's data center capital at the moment is London and what we call the M25, which is on the map is a big ring-shaped road that circles around London. All of that tends to be within 25 kilometers of the center of London. The truth is, if a business demands synchronous data replication, there are complexity issues and a very specialized, high-bandwidth network is needed, which means that they will pay about three times the price of what we charge at our data center in Newport. The fact is, only 15 percent of the market needs synchronous replication. But, ironically, there are CIOs out there who are very keen on visiting and admiring their data centers in London's Park Royal, or the Docklands, and all the while they remain unperturbed at the fact that they are costing their shareholders an extra £20 million or perhaps even £30 million more a year over a 15-year contract. The CIO is able to influence the CFO because the CFO is usually not a technical guru. This kind of thing has been going on for years in Britain. Businesses in several other countries, however, have figured out that everything doesn't have to be backed up in synchronous mode.
Richard Grigonis: I imagine it's a delicate selling point.
Simon Taylor: Getting the word out about this is one of our big marketing challenges. I'm about to release some public relations materials that says that corporate shareholders everywhere should realize that millions of millions of pounds are being needlessly extracted from the bottom line when it comes to data centers. My message to them is that their businesses need not be plunked down in the middle of London or on the M25. It's all a facade, something of a humbug, really. But people get away with it all the time.
The other thing that happens in London is that companies will employ the services of huge global commercial property agents—I like to call them "massive estate agents"— who advise them that they should be situated in London and on the M25 because the agents' transaction fees are much bigger on commercial properties there.
This is the reality of the world. When you pick up the phone to make a call, you don't know where that dial tone is coming from, do you? These days, because of such technological innovations as voice-over-IP and efforts such as CN21 in Britain, your dial tone could be coming from anywhere, not just the traditional exchange down the road. It's the same with data centers.
Last Data Center to Leave the Docklands, Please Turn Out the Lights
Simon Taylor: I'll tell you why we plunged into the world of data centers. One of my previous companies, Interoute Telecom, was hit by two terrorist attacks. In the first incident, we had a switch, an Ericsson AXE10, which is a huge PTO or Public Telecommunications Operator switch, running in a building in the Docklands which the IRA one day decided to blow up. No one was hurt, thank goodness. Amazingly, there was no problem with the switch—it continued to carry on beautifully. However, incredibly, the police cordoned off the building and blocked access to it for three months. Our engineers couldn't get inside the building to reconfigure and otherwise work on the switch, which was exasperating to say the least.
Furthermore, when 9/11 occurred, Interoute Telecom lost its New York office in that tragedy. Once again, no one from our company was killed, but our office was literally flattened to the ground.
I then noticed that any businesses in New York that had any sense moved their respective data centers out of New York, to places such as New Jersey and Connecticut. Companies in San Francisco, Los Angeles and Silicon Valley followed suit, moving their data centers to more rural areas. America had figured out what to do. So I said to my associates, "London hasn't seen a disaster on the scale of 9/11 yet, and there have been very few attempts, but I'll tell you what's going to happen. The greatest aggregation of data center real estate at the moment is in the London Docklands, which encompasses east and southeast London. I think that one day that's going to be a target."
So, having been touched by terrorism twice, we came to the conclusion, after much analysis and deliberation, that Wales would be a brilliant place to set up shop for one of the world's great data centers. Others will recognize the wisdom of our decision and they'll join us there.
Richard Grigonis: But despite being far from London, your Newport data center does still provide equivalent or better resilience? I can see that you've taken terrorists and overall security into account, but what about a simple little accidental fire?
Simon Taylor: We are certainly mindful of today's stringent business continuance/disaster recovery requirements. In our Newport data center, we provide a first-class environment for effective business continuity planning. Custom solutions can be designed for remote offices, home workers and mobile workers to accommodate disaster recovery plans as well as orchestrating effective day-to-day communications.
All of our equipment is fully fail-over capable and we can easily endure multiple concurrent equipment failures and the center will continue to function unhindered.
In terms of fire protection and suppression, we have a dual stage N+1 system incorporating detection and suppression which uses an argon/nitrogen mix. Both argon and nitrogen are noncombustible; nitrogen is lighter than air, argon is heavier. Used together, they are fast and effective at combating fires and, unlike fluids or foam, there is no clean up. Power need not be interrupted so equipment within the center remains unaffected.
The data halls and plant rooms are fitted with VESDA, or Very Early Smoke Detection Apparatus, as a first stage alarm. An addressable system is also installed in the data halls and plant rooms on a two-stage release strategy. This provides a multi-layer detection and firing strategy. In the case of fire, plant rooms are fitted with a high pressure water mist system and data halls and HV rooms will utilize an inert gas with zero ODP & GWP [Ozone Depletion and Global-Warming Potentials]. All these systems are monitored 24 x 365 and they are linked to our sophisticated central building management system.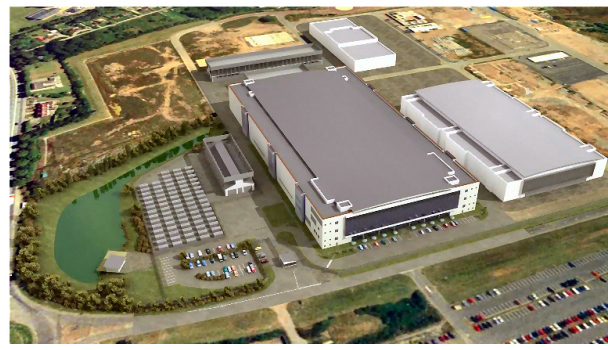 To Sum Up
Simon Taylor: So that's our history to the present day. We've done everything "blue chip" in terms of our facility design, our architects, our electromechanical devices, and so forth. We appointed KPMG as corporate advisors and PricewaterhouseCoopers as auditors.
We're confident that we're doing everything right. After all, any major company that moves into a data center such as ours does so after engaging in a great deal of due diligence. One of our customers had their law firm look over the details of our operation. They checked out the nearest flight paths of airliners, along with every sort of arcane subject imaginable that could impinge on the workings of our facility. They literally left no stone unturned. After all, if you mess around with someone's data, you'll fall flat on your face.
Richard Grigonis: As Benjamin Franklin said, "It takes many good deeds to build a good reputation, and only one bad one to lose it."
Simon Taylor: Precisely.
Richard Grigonis: It sounds like quite an amazing installation. In terms of size, I would guess that it's probably the biggest data center in Europe, if not the biggest?
Simon Taylor: At 75,000 square meters, I do believe it is the largest in Europe and certainly one of the largest in the world; I haven't yet run across anything that is quite its size on this side of the pond. In America, something on the order of a Google would likely have built a bigger data center or "container farm". In any case, while there may be plans for extremely large facilities out there, ours has been subject to millions of pounds in investment, and is real and operational. We're open for business.
Furthermore, I do believe that, at the moment, our facility has the biggest electrical power supply in the world. I don't know of any data center that has access to 180 MVA of capacity, which is enough to power the city of Bristol.
If we fill this data center, I will be very happy to open another one. For historic reasons businesses first set up shop in London, but then they do a financial analysis and they scrutinize things such as labor turnover rates and so forth. Any thorough cost analysis should make the Wales and the M4 Corridor shine brilliantly. And there's a mobility of labor in Wales, so you can actually find the quality of people you need. The government also provides some financial incentives.
I'm both pleased and excited that we've constructed the first truly great data center in Europe, and that it may ultimately be seen as the leading edge of a great wave of data center investment in Wales. I firmly believe that what we've done is a harbinger of great things to come. In any event, I am committed to continue an investment program to develop additional technology projects in Wales over the next few years.
Richard Grigonis: Thanks for the great interview! I'll be sure to follow up with Next Generation Data to see how things progress.
Sidebar #1: Next Generation Data's Welsh Connection: Comments by Geriant Jones, Chief Executive, Americas, International Business Wales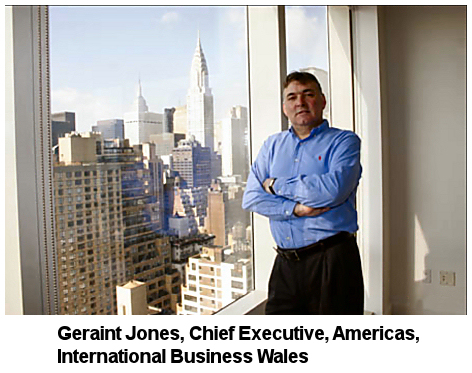 Any project having the vast scope of Next Generation Data's data center has need of a friendly, business-oriented regional government capable of facilitating a thousand official approvals, deliberations and other pressing matters. Fortunately, Wales was up to the task, having seen £14 billion in investment since 1983 and now hosting over 500 international companies, employing approximately 80,000 people.
I recently delved into just how the Welsh government deals with world-class corporations by sitting down for a talk with some members of the Wales International Center, situated in New York City's Chrysler Building. First up was Geriant Jones, Chief Executive, Americas, International Business Wales.
Richard Grigonis: What's the role of the Welsh government in helping businesses relocate?
Geraint Jones: I operate and head up the economic development arm for the government of our country of Wales, and we are effectively an international organization as we are wont to deal with many international business organizations. Our work concerns finding ways of helping the economic development of our country. Wales is a small country, part of Britain, with 1.3 million hardworking people.
If you look at the history of Wales, you can see that it was one of the chief drivers of the Industrial Revolution, partly because we had—and still have—all of the proper logistics, with deep water ports and coal deposits, which means that iron ore could be brought into the country to make steel. We determined in the early 1960s that these long-established "heavy" industries were not going to yield a viable future for us. There followed a big transitional period for us and we ultimately moved towards the adopting development in various areas of technology. The construction of the famous LG factory was an example of taking a step into new areas of technology. The fact that the building has changed its use again to a state-of-the-art data center again takes us into an innovative technology area and a new, exciting opportunity for attracting similar businesses.
Sidebar #2: The M4 Corridor and Wales—a Talk with Christopher Williams, Vice President, Technology, International Business Wales.
Next Generation Data's mammoth data center in Wales, like many high-tech businesses in Britain, can be found nestled in that country's answer to America's Silicon Valley and the Route 128 ring around Boston, Massachusetts. Called the M4 Corridor, it takes its name from the six-lane M4 motorway running east-west across Britain. At the far eastern end, not so-coincidentally, there is easy access to the M4 from London's Heathrow airport. The M4 makes its way from London to Staines in Surrey, followed by a stretch of Berkshire locales such as Slough, Windsor, Maidenhead, Reading, Bracknell and Newbury, then past the borough of Swindon, onward to Bath and Bristol, across the Second Severn Crossing (or one can take the nearby, older Severn Bridge at Chepstow, the road here having been renumbered to M48) and into South Wales, continuing westward past Newport, Cardiff and Swansea. The area surrounding this famous auto expressway is also served by the Great Western Main Line, including its South Wales branch which provides easy access to UK destinations such as London, Manchester, Birmingham, Leeds and Newcastle.
The number and types of companies ensconced in the M4 Corridor are comparable to what you could find in any similar area anywhere in the world. A cursory survey reveals the likes of Cisco, Ericsson managing services for Hutchison 3G, General Dynamics, Hewlett Packard, Honda, IBM, ING Direct, Microsoft, O2 plc, Oracle, MCI, Prudential, Sony, Vodafone, Yell Group, and so forth—an extensive, ever-growing list of familiar, "blue chip" corporate names.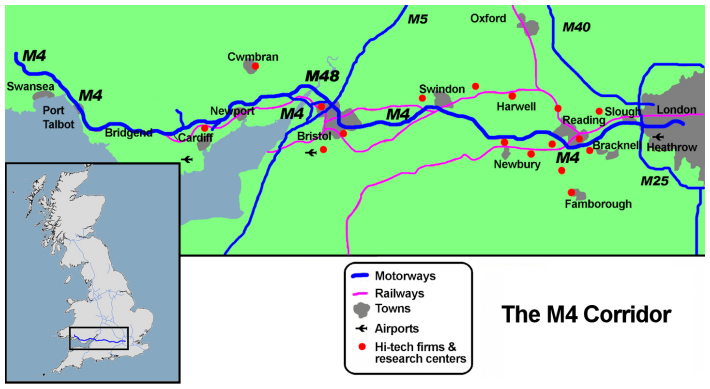 Early on, the terms "M4 Corridor" or "England's Silicon Valley" was used to designate the eastern part of the area, from London to the former railroad center of Swindon in Wiltshire, 80 miles away, which in the late 1970s and 1980s began to intensively recruit high-technology and businesses. Eventually, however, in addition to the eastern areas such as Berkshire and the Thames Valley, development spread westward, around the interchange of the M4 and M5 motorways at the Almondsbury Interchange just north of Bristol and thence to South Wales. The rise of this "Welsh M4" began with the development of the Swansea Enterprise Park starting in the 1980s. Later significant investment has occurred in the city of Cardiff with developments at Cardiff Gate and the Cardiff Bay area, not to mention major investment made in and near the city of Newport by electronic firms such as Alcatel and Panasonic. Indeed, between 1986 and 2000 Newport alone attracted more than £3 billion worth inward investment, creating more than 10,000 jobs.
Perhaps it is fitting that South Wales would experience the arrival of new technology, since it has been a significant industrial center of the UK from the earliest days of the Industrial Revolution. Not far from Swansea, for example, is the UK's largest steel producer, the Port Talbot Steelworks. Moreover, visitors to the area can luxuriate at places such as Sir Terence Matthews' Celtic Manor Resort (one of Europe's leading golf and business resorts) situated next to the M4 in Newport, host of the 2010 Ryder Cup.
I recently discussed Wales' position concerning Britain's M4 Corridor with Christopher Williams, Vice President, Technology, International Business Wales.
Richard Grigonis: The M4 Corridor vaguely reminds me of my old college class that discussed "geographic determinism". With so many favorable elements to be found in one area, it's seems only natural that it would attract the attention of global corporations.
Christopher Williams: The story of Next Generation Data's data center, as well as the ongoing saga of the many other companies that are moving to the Welsh segment of the M4 Corridor, must indeed include the geography of this area and its people. Many US companies do place their principal service offices in the prestige location of London, where they have access to a cosmopolitan workforce and one of the world's greatest financial centers—but in terms of anything else, there are substantial constraints, such as the high cost of office space, living accommodations and metropolitan salaries, not to mention the greater number of possible security threats to be found in an urban environment.
Traditionally, companies could be placed in one of three categories: primary, such as those that extract raw materials like coal from the earth; secondary, which is manufacturing using those raw materials; and tertiary, or services. Today, however, areas such as the M4 Corridor attract many organizations that are members of a new quaternary or fourth basic industry, devoted to research, development, and information. Any "products" as such produced by these companies tend to be items such as electronic parts, computer components or software, which means that the raw materials needed for their production are relatively small and therefore cost little to transport, which makes these organizations easily relocatable and thus "footloose" in nature. All of these factors and more have encouraged many businesses to place their high-tech and research-and-development facilities in the M4 Corridor. After all, one can find there any number of less expensive, pleasant countryside locations having access to advanced communications networks; many supporting industries; the graduates and expertise of nearby universities such as the new City Centre Campus for the University of Wales at Newport; a skilled, friendly and eager worker pool and, in the case of Wales, a considerable electrical power capacity.
Perhaps even more important is the fact that you can take advantage of all of these attractive factors and yet you still have outstanding proximity and accessibility to London and Heathrow Airport, thanks in no small part to the M4 motorway and the railways. Cardiff International Airport is 25 miles away from Newport, Bristol Airport is 39 miles and London Heathrow is a two-hour drive. Even visitors arriving at Gatwick Airport can now reach the M4 via the London Orbital, the M25 motorway. London is 110 minutes by rail from Newport, and the trains run at half-hourly intervals. It is therefore obvious why South Wales and other M4 environs have evolved into the high tech corridor of the UK.
Sidebar #3: Other Success Stories from Wales
In this article, Yours Truly has focused on Next Generation Data's remarkable new data center near Newport, but there are many other exciting developments relating to computing and communications technologies occurring in Wales these days.
@Wales
Wales is home to the (appropriately named) @Wales Digital Media Initiative (http://www.atwales.com), a specialist business incubator that's situated in the heart of Cardiff Bay, Wales' largest digital and media cluster. @Wales provides specialized business development support for innovative, high growth early stage businesses; and is a part of the incubation chain strategy in Wales to accelerate the growth of Small and Medium-sized Enterprises (SMEs). A specialist team provides on-site mentorship and IT innovation, business development and marketing support.
EADS Defense & Security Systems Limited
Situated in Coedkernew, EADS Defence and Security Systems UK is the Systems House for EADS in the UK. Employing over 900 people and headquartered in Newport, in south east Wales, EADS DS UK is expert at building complete communication and information systems solutions. EADS DS UK has a growing reputation as the partner of choice in the defense and homeland security markets and is a leading UK supplier of secure end-to-end communications to Britain's Ministry of Defense (MoD). Its work includes solutions involving information infrastructure, mission systems, global security and secure networks, air and naval defense, manned and unmanned systems, defense concepts, experimentation and public safety. These efforts are all supported by the EADS DS System Design Centre and its Network Centric Operations Simulator simulation, modeling and experimentation capability.
Sword Group
Sword Group delivers exceptional business applications to the world's largest companies globally. With operations in 37 countries, Sword employs around 2000 people and generates more than €200 million in consolidated revenue. An international leader in the delivery of Business Process Improvement solutions, Sword assists its customers across regulated industries to optimize performance, increase efficiencies and maximize return on investment. The company provides support to customers across insurance & healthcare, energy, banking & finance, telecoms, utilities, engineering & construction and the public sector.
Sword Group's growth has been such that on 18 August 2009, the company opened a second office at its new Technology Centre in Cwmbran, Wales. Sword's advanced information Technology Centre opened in January 2008 with just two employees and in January 2009 had already grown to 67 employees. It was forecast that by mid-2009 a further office would be required to support growing staffing levels, and indeed it has come to pass, with 88 employees now on staff. By end of 2009, Sword expects to have over 100 employees. The Centre, which was established in partnership with the Welsh Assembly Government, focuses on research, development and operational support for Sword's software portfolio.
Plans have been formulated by Sword involving increased global software development in the Centre and to introduce emerging technologies. It's interesting to note that the choice of location in Wales bucked the prevailing trend of opening "offshore" business support centers.
Swansea University Institute of Life Science
The £50 million Institute of Life Science (ILS) was formed through a collaboration involving Swansea University, IBM and the Welsh Assembly Government. It's home to Blue-C, said to be the most powerful computer of its kind devoted purely to healthcare research. Indeed, the entire Institute is an innovative hotbed of research activity to discover radical ways to treat disease and deliver health care.
Capable of calling upon world-renowned research in the University's School of Medicine, the Institute boasts state-of-the-art laboratories, researching areas such as cancer, obesity and diabetes, infections, and neuropsychiatry. Moreover, the Institute has the potential to create substantial economic wealth through research, intellectual property licensing, spinout companies and inward investment.
The ILS is housed in a £12.5 million six-storey building on University land adjoining Singleton Hospital. The Institute has its own dedicated business incubator facilities, where fledgling businesses can be cultivated in a supportive environment, enabling ideas born at the Institute to be fast-tracked into commercial exploitation.
The ILS is also home to the £3 million Boots Centre for Innovation, which showcases the Institute's regional economic development mission. The Centre is backed by a Regional Selective Assistance grant from the Welsh Assembly Government and will help researchers and entrepreneurs from around the world to develop new products. It will ultimately assist innovators to develop new products for Alliance Boots plc in areas as diverse as pain relief, skin treatments, diabetes, and healthy ageing.
Swansea University Institute of Advanced Telecommunications
The Institute of Advanced Telecommunications (IAT), also at Swansea University, is doing cutting edge research into wireless, optical and the telecommunications technology. The IAT has attracted leading specialist academics and technologists with great expertise in photonics, wireless and networking.
The Welsh e-Science Centre at Cardiff University
The Welsh e-Science Centre (WeSC) is hosted by the Cardiff School of Computer Science at Cardiff University. WeSC was established as part of the UK national e-Science initiative, and has received additional funding from the Welsh Development Agency, and Cardiff University.
New and emerging distributed collaborative scientific enterprises demand desktop access to very large data collections, very large-scale computing resources, and high performance visualization. The Welsh e-Science Centre at Cardiff University develops, implements and deploys applications to leverage e-Science technologies, infrastructure, and services. Many of these services are a challenge to develop because they are collaborative in nature and yet they must be used by geographically distributed researchers in fields such as engineering, physics, earth science, bio-science, and chemistry. In particular, the Centre promotes the collaborative development of large-scale multi-disciplinary applications, and the immersive visualization of large multi-dimensional data sets. Furthermore, the Centre is a participant in a grid computing research program using technology from HP and Cisco Systems linking centers in Wales and Singapore, and a new high performance computing center supplied by Bull Information Systems with one of the most powerful clusters in the UK.
Technium Swansea
The world's leading organization advancing business incubation and entrepreneurship, the National Business Incubation Association (NBIA), lists Technium as one of the ten best incubators in world with a long list of successful graduate companies and a number in residence developing and supplying web-based products to customers in the US, Europe and Asia.
eLINIA
eLINIA is a Cardiff-based managed services provider, whose interactive programs are used by government and private customers. The eLINIA team has worked together for 15 years, providing secure Information and Communications/Computing Technology (ICT) services to business and is one of the UK's fastest growing ICT solutions providers.
eLINIA has grown to become one of Britain's leading IT service providers since its launch in 2005. eLINIA, which counts the National Trust, the Welsh Assembly and Honda UK among its ever-growing portfolio of customers, experienced a 30 percent growth in 2009, despite the lackluster economic climate. In fact, since 2007 eLINIA has increased its revenues by over 300 percent and has more than doubled its workforce.
The outstanding success of eLINIA is attributable in part to its direct, efficient approach to problem solving for many businesses and government organizations, aided by its high degree of flexibility in delivering bespoke managed services, founded on a highly resilient, competitively-priced, managed services infrastructure.
In 2009 eLINIA was shortlisted for the UK IT Awards Environmental Project of the Year for its success in curbing the National Trust's carbon emissions and cutting the charity's IT costs. eLINIA is part of the Welsh Assembly's Knowledge Bank for Business (KB4B) scheme. KB4B provides tailored support for high growth companies in Wales.
Epitiro
Founded in 2000, Epitiro is a Cardiff-based company whose benchmarking and diagnostic products are used by telecommunications carriers to test their network operations and thus provide subscriber experience insight to ISPs, MNOs, industry bodies and government regulators. The clients make up a first-class roster that includes BT Retail, Bahrain Telecommunications Regulatory Authority (TRA), BT Wholesale, KPN, Mobily, Ofcom, Q-Tel, Telecom New Zealand, the Saudi Telecommunication Company (STC), Telefonica O2, Tiscali, Virgin Media, Vodafone, Orange, Wataniya and many others that benefit from Epitiro's coverage of fixed and wireless broadband performance.
Amusingly, Sun Microsystems legally compelled this small Welsh company Epitiro to change its name from Purple Sun. It hasn't harmed business a bit.
Gamma Projects
Gamma Projects was acquired in April 2009 by Enghouse Systems Limited of Canada for its cutting-edge telecom network infrastructure management software solutions and consultancy services for telecommunications operators and equipment vendors worldwide. (It was felt that Gamma Projects network management solutions—collectively known as Gamma NetOne—would provide Enghouse's Asset Management Division with a complementary telecom solution to their existing NetWORKS product offering, thus giving Enghouse a new footprint and an expanded geographical presence in the growing mobile market.)
BT Cardiff Bay International Data Centre
The BT Cardiff Bay International Data Centre is a state-of-the-art facility which opened in 2003 as the premier provider of e-business solutions for the UK. Its three data halls are capable of hosting an estimated total of 12,000 servers along with 300 support staff. The Centre serves companies including Microsoft, which runs Europe services out of the Centre. On-site there are also conference facilities, customer presentation areas, control rooms, and a modern bistro for staff and customers alike.