About Me — A Brief Bio
SUMMARY: Richard "Zippy" Grigonis is an internationally-known technology editor and writer. Since 2013 he has been Editorial Developer and Chief Photo Editor for Newsmax.com and the Lifestyle section of Newsmax magazine. He writes the "Technically Speaking" blog on the Newsmax Insiders Page (where it compliments George F. Will's "Conservatively Speaking" and Alan Dershowitz' "Legally Speaking") and applies cutting-edge ideas to web development. He also occasionally writes for Newsmax magazine, Newsmax.com and the Newsmax financial newsletters. He developed and maintains Michael Reagan's ReaganReports.com, ObamacareNewsUpdates.com, AskObamacareQuestions.com and the highly popular GOPInsiderBrief.com.
He was Executive Editor of TMC's IP Communications Group of magazines: Internet Telephony, Unified Communications and NGN (Next Generation Networks), from 2006 to 2009, founding UC and NGN. He was the Editor-in-Chief of VON (Voice on the Net) Magazine from its founding by Jeff Pulver and Pulvermedia in 2003 to August 2006. He was Editor-in-Chief of Jeff Pulver's State of NOW / #140conf online community from September 2011 through October 2012. He currently is an Editorial Developer, Web Developer and Photo Editor for Newsmax Media in Boca Raton, Florida. He owns InterestingAmerica.com, Grigonis Research and Grigonis Media.
The author of five books on computers and telecom (Fault Resilient PCs, Computer Telephony Encyclopedia, Disaster Survival Guide for Business Communications Networks, Voice over DSL and the VON Dictionary of IP Communications), he was the Chief Technical Editor of Harry Newton's Computer Telephony magazine (later retitled Communications Convergence after its acquisition by Miller Freeman / CMP Media) from its first year of operation in 1994 until 2003. (It ceased publication in October 2004.) His monthly column called "Nitty Gritty" spotlighted new developments in core technologies used in both computing and communications (he has continued the column in various publications to the present day). Additionally, he helped design and construct a testing lab used by four CMP publications.
He is also a preeminent figure in the field of embedded bus & board technologies and fault resilient / fault tolerant computers relating to telecom; in December of 1998, for example, he supervised the world's first product interoperability test involving the CompactPCI H.110 Computer Telephony Bus. Indeed, it was while at Computer Telephony in 1995 that he coined the term "fault-resilient computer" to describe high availability rackmount computers having "four nines" (99.95 to 99.99 percent) uptime then coming into use for computer telephony platforms instead of the more expensive and (at the time) somewhat underpowered "fault tolerant computers" having at least "five nines" (99.999 percent) uptime.
Grigonis is the former MIS Director of Squadron, Ellenoff, Plesent, Scheinfeld & Sorkin (now part of Hogan Lovells) a major law firm representing such clients as Rupert Murdoch and his News America Corp. (He often jokes that his greatest claim to fame was showing Rupert Murdoch where the men's room was at Squadron, Ellenoff on the day he bought back the New York Post in 1993.)
The winner of several programming awards, in the early 1990s Richard did multimedia programming and consulting for AT&T Bell Laboratories in Holmdel, New Jersey. He was the principal consultant on town24.com (now defunct), the world's first all-Flash website. He has also designed and implemented complete LAN and business systems for law firms and literary agencies, and during the 1980s worked for KPMG Peat Marwick at their New York headquarters.
Richard has published articles in Forbes, Internet Telephony, Unified Communications, NGN, VON Magazine, Dr. Dobb's Journal, TELECONNECT and Call Center magazines. He has also advised foreign governments and corporations on computer telephony, IP Communications and contact center technologies. Cited as a long-time speaker, conference session moderator and editor at telecom and embedded computing shows, he has also ghost-written editorials, blogs, white papers and other materials for various telecom industry leaders and companies. He regularly appears on The Barry Farber Show (appearances: January 5, 2011, January 12, 2011, March 12, 2012, March 17, 2014,, August 1, 2014, April 7, 2015, May 20, 2015, July 14, 2015, December 16, 2015, April 15, 2016, August 9, 2016, September 29, 2016), November 29, 2016), January 5, 2017).
In the early 1980s he was part of the production staff of the TV show Sesame Street, seen here.
Grigonis is a graduate of Rowan University in New Jersey.
Trivia: Richard's mother was a mathematician who worked on the Manhattan Project. Napoleon is in her family tree.
Okay, but where did the "Zippy" nickname come from?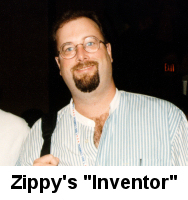 As for how Yours Truly got the nickname Zippy, the explanation can be found in the "Zippy" entry in my Computer Telephony Encyclopedia (CMPBooks, 2000), which follows:
Zippy
Nickname of Richard Grigonis, formulated during his time as the Chief Technical Editor of Computer Telephony Magazine. The legend of Zippy began when CT Editor-in-chief Rick Luhmann (in photo at left) found that too many people were confusing the names "Rick" with "Richard." He decided to devise a clever nickname for Richard. Did he ever. Luhmann later said that he gave Richard the name Zippy because "he zips through information and holds it like a Zip disk." Zippy himself is not quite sure about this origin of this sobriquet, having spent many accumulated hours patiently explaining to new acquaintances that he has absolutely nothing to do with the Zippy the Pinhead cartoon character.

Needless to say, Harry Newton (then publisher of the magazine) was absolutely delighted with such a deft example of character assassination, and so the name Zippy was spread far and wide, making Richard (or Zippy) into an industry icon, of sorts.

For the record, Zippy has no connection with the national Zippy the Clown party franchise, nor did he get his nickname by hanging out repeatedly at the Zippy Coin Laundry in Oakland Park, Florida. Zippy doesn't use Zippy Mail, doesn't shop at Zippy's Mini-Mart in Priest River, Idaho, and while he is considered to be a professional photographer, he has yet to do a celebrity endorsement of the Zippy One Hour Photo Shop in Valley Village, California. He doesn't own the Zippy Boat Works in Arden, North Carolina, nor does he have a controlling interest in Zippy Auto Glass of Lehighton, Pennsylvania -- though Zippy does wish he owned the lucrative national chain of Zippy Lube shops headquartered in Rexburg, Idaho, or the chain of Zippy Marts in the great American Southeast, or even the string of 21 Zippy's restaurants that serve mouth-watering chili to the denizens of the beautiful Hawaiian islands.

Perhaps Zippy will one day eat Mexican in Hawaii, in which case he'll be sure to bring along some salsa from Zippy's Hot House Salsa Co. in Petersburg, Arkansas and some buffalo wing appetizers from Zippy's Zesty Wings in Okeechobee, Florida.

And if the magazine should ever fold for good [Note: It did], Zippy will be sure to send his resume to Zippy Typing Services in New Castle, Delaware. It looks like his kind of place. Maybe he'll even bump into Rick there.
As simple to remember as "Zippy" is, some people mistakenly call me Ziggy or Skippy.
Writing, Editing, Appearances, Consulting
Richard Grigonis is currently available for full-time or part-time writing, editing, consulting or conference speaker/moderator engagements. Contact him at richard AT richardgrigonis.com.