Work Experience
Summary: Internationally-known technology editor and author who has also been involved with multimedia and television production (Sesame Street), Management Information Services, Web development and specialty programming.
Newsmax Media
February 19, 2013 to Present
Editorial Developer, Web Developer, Writer and Chief Photo Editor at Newsmax.
Editorial Developer and Chief Photo Editor for Newsmax.com and Lifestyle section of Newsmax magazine. Writes "Technically Speaking" blog on Insiders Page (where it compliments George F. Will's "Conservatively Speaking" and Alan Dershowitz' "Legally Speaking"). Applies cutting-edge ideas to web development. Writes for Newsmax magazine, Newsmax.com and financial newsletters. Developed, maintains and writes for Michael Reagan's ReaganReports.com, ObamacareNewsUpdates.com, AskObamacareQuestions.com and GOPInsiderBrief.com. Selects material for morning Trump News and Carson News emails, as well as Texas "news hub" emails for Dallas, Houston and San Antonio. Also does occasional specialty software projects.
Jeff Pulver's State of NOW / #140conf Online Community
September 21, 2011 to October 31, 2012

Editor-in-Chief

Wrote blogs for and attended the 140 Character Conferences ("the poor man's TED conference") of Jeff Pulver,co-founder of Vonage and investor in twitter and Foursquare.
Technology Marketing Corporation (TMC)
August 21, 2006 to July 23, 2009

Executive Editor

Executive Editor in charge of TMC's IP Communications Group of magazines: Internet Telephony, NGN (Next Generation Networks) and Unified Communications. Edited and wrote features, managed columnists, art directors, etc. Helped found NGN and Unified Communications magazines. Ghost writing of executive's editorials and blogs. Contributed roughly three articles a day to the www.tmcnet.com website. Attended TMC and other expositions and conferences.
VON (Voice on the Net) MAGAZINE Published by VON Publishing LLC, a pulvermedia company
May 30, 2003 to August 11, 2006
Editor-in-Chief
Founding editor of this internationally-renowned and highest circulation IP communications magazine, published by "VoIP guru" (and co-founder of Vonage) Jeff Pulver (ceased publication with financial failure of parent organization, 2008). Developed magazine in conjunction with VP and General Manager, Maury Kauffman and Nick Morley, former top magazine advertising salesperson for Computer Telephony.
I wrote the following: three features per issue, the editorial, coverage of major VON and other expo/conferences, edited bimonthly interview with Jeff Pulver on a particular timely topic (e.g. "Net Neutrality").
I also edited material from the rest of the staff, fixed and/or created graphics in Photoshop and Paint Shop Pro when necessary, formulated the editorial calendar, and generally performed all other duties typically associated with an editor-in-chief—and then some, such as printed interviews with foreign communications industry experts distributed as promotional items for foreign VON shows.
Moreover, during my time there I wrote my fifth book, VON Magazine's VON Dictionary of IP Communications (2004) and a promotional pamphlet, VON Magazine's Acronym Guide (2005). I also edited and did the internal design and layout for the books SIP Beyond VoIP: The Next Step in the IP Communications Revolution (2005) by Henry Sinnreich, Alan B. Johnston and Robert J. Sparks (2005) and VoIP Made Easy: The Ideal Introduction to Internet Telephony, by Bill Stuckey (2005).
Fortunately, I got out of there a year-and-a-half prior to the company's complete collapse. Doug Mohney took over as editor-in-chief for a while after I left, then departed a week before Pulvermedia assets' were seized right in the middle of a spring VON show. The company thought it could hold expos and conferences in 15 or more countries, and of course that was too much of a strain for the marcom budgets of even the largest companies.

COMMUNICATIONS CONVERGENCE MAGAZINE (formerly Computer Telephony) Published by CMP LLC
October 25, 1994 to February 13, 2003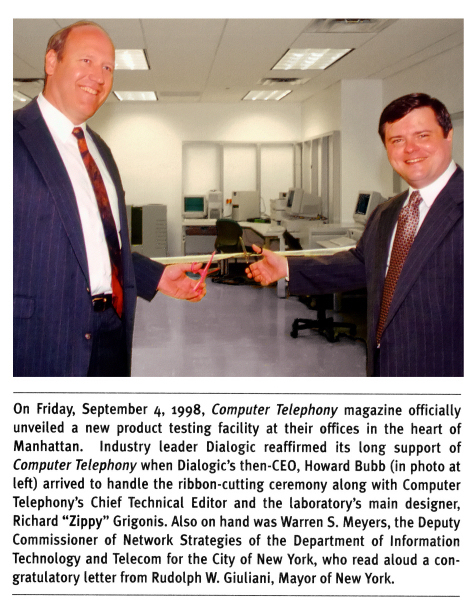 Chief Technical Editor
Became internationally known as a preeminent writer on fault resilient computing used in communications, a term I popularized starting in 1995. Unlike true fault tolerant computing, which was only available on expensive Tandem and Stratus computers of the time, fault resilient systems were (and are) 19-inch rackmounts wherein all system components are made redundant with the exception of the CPU, which allows for the construction of systems far less expensive than true fault tolerant systems. These fault resilient computing platforms nevertheless had sufficient high availability to successfully function in telecom-related business environments (call centers, fax servers, softswitches, communications servers, etc.). Thanks to my providing a suitable moniker for and focusing my coverage on this type of computer technology (along with other "uptime" related devices such as UPSs and ruggedized computer boards) Computer Telephony magazine during the 1990s garnered 85 percent of all advertising pages in the U.S. related to this particular sector of the industry, and it comprised approximately 35 to 40 percent of the magazine's $7.5 million dollar-per-year advertising revenues.
I also scored some technological "firsts" in my articles. For example, on December 8th, 1998 I supervised a product interoperability test for a new type of computer bus, called the H.110 Computer Telephony Bus. By gathering together in our magazine's test lab two teams of engineers from competing companies (Dialogic and Natural MicroSystems) along with their respective T-1 communications boards, I brought about the world's first successful "proof of concept" test of the bus, beating out other companies and all of the international standards bodies. The article describing this test garnered great interest upon publication in January of 1999, and the test was reproduced by a company called Force Computers in their booth at Computer Telephony Expo in March 1999.
Aside from computers, I have long been known as a writer in many areas of communications. For example, I was the only U.S. computer telephony/call center journalist invited to Delta Air Lines' press conference announcing Europe's first multilingual international airline reservations center, held at the offices of the Royal Aeronautical Society in London on November 27, 1995. During this trip I was granted a personal interview with the Rt. Hon. Tim Eggar M.P., then the Minister for Industry and Energy in Britain's Department of Trade and Industry. I also toured call centers of AT&T, Microsoft and met with officials of British Telecom. Articles based on information gleaned from these events were published in both Computer Telephony and its sister publication, CallCenter magazine.
I am also credited with having "discovered" a number of companies, such as my introduction of the Portuguese call center software company Easyphone (now called Altitude Software) to North American readers in 1995. As a result of this I was later was asked to be the keynote speaker at SAT 1997 (Servico de Atendimento Telefonico) sponsored by Factor De Equilibrio in Lisbon, Portugal, where 50 of the top European telecom officials, telco and manufacturing CEOs listened to my keynote presentation on "How Computer Telephony Expands the Concepts of 'Call' and 'Call Center'."
On a number of occasions I have been called upon to deliver other industry-related presentations. For example, on November 25, 2000, I flew to the island of Kauai, Hawaii by Sound Advantage LLC, a leading provider of a voice-driven computer telephony solution called SANDi (Sound Advantage Natural Dialog Interface), to speak at the launch of its first annual dealer conference (Sound Advantage is now part of AVST). Dialogic sponsored the conference, which included presentations by industry experts and strategic partners including David Thomson, Chief Technology Officer for Lucent Speech Solutions; Mike Ferney, Channel Development Manager for Catalyst Telecom; and Patty Nozato, Product Marketing Manager for Dialogic.
I have also both delivered and served as moderator for presentations on fault resilient computing, XML, and packet-based telephony, mostly for the ITExpo and Computer Telephony Expos in Los Angeles, where I also served as a judge responsible for designating certain Best of Show awards. I have also chosen Product of the Year awards for all three TMC IP Communications Group magazines as well as Computer Telephony and Communications Convergence for the now-defunct CMP.
Various companies have also called upon me for advice. In 1998, for example, Envox Group flew me to Stockholm, Sweden, where I participated in a brainstorming session to formulate a new name for an advanced application generator.
When Computer Telephony was re-launched as Communications Convergence in 2001, my writings became more slanted toward next generation communications topics such as Voice-over-IP, Internet Telephony, Quality of Service, softswitches, MPLS, Fax-over-IP, IP-PBXs, H.323 and the Session Initiation Protocol.
Starting in August 1999 and continuing until July 2009, I also wrote a monthly column in various magazines called "Nitty Gritty." It spotlighted core technologies used in communications: fault resilient platforms, VoIP, Quality of Service, advanced switching fabrics, and other related topics.
Additionally, I helped design and supervised the final construction of the testing lab used by four CMP magazines at the (now defunct) 21st Street NYC offices.
I wrote five trade technical books, four of which were published by the Telecom Library/CMP books division later acquired by Elsevier: Fault Resilient PCs (1996), the Computer Telephony Encyclopedia (2000), the Disaster Survival Guide for Business Communications Networks (2002) and Voice over DSL (2002). The fifth is VON Magazine's VON Dictionary of IP Communications (2004), published by VON Publishing LLC. All of these books are currently available on Amazon.
SQUADRON, ELLENOFF, PLESENT, SHEINFELD & SORKIN, 551 Fifth Ave., New York, NY
February 23, 1987 to October 22, 1994
Director, Management Information Services.

Formulated plan for a complete revitalization of MIS at this major law firm (190 workstations, 6 servers). Personally configured and maintained an 18-workstation Windows for Workgroups (WFWG) pilot group running both WFWG and Novell 3.11. Installed ECCO personal information manager software for group, tested Foxpro and Microsoft Access for conversion and redesign of existing R:Base databases to a proposed client-server Windows Environment (NT Advanced Server), tested Microsoft Word vs. WordPerfect for Windows as for use as the firm-wide word processing program, researched Internet and various e-mail gateways, selected document imaging hardware and software for Litigation Department, drew up plans for a firm-wide marketing and internal referral system.
One of the more amusing moments while working for Squadron occurred in the late 1980s when I got a call in the middle of the night to get out of bed, jump into a limo arriving outside, and race into work to type up the Last Will and Testament of Rupert Murdoch! The firm had done the prenuptual agreement for Marla Maples and Donald Trump, but a temp hired by the firm secretly made a copy of the document and parts of it appeared in The New York Post. Since the firm was also composing Murdoch's Will at the time, everyone was now worried that someone would make a copy of it and sell it to The New York Daily News, or somesuch media entity. As Howard explained it to me, "Although we are at opposite ends of the political spectrum, Murdoch and I are actually good personal friends. But friends or no, if any part of that Will escapes the firm and appears somewhere, then in about two seconds we will lose thirty-five percent of ours business!" They didn't trust anybody and wanted me to personally work with attorney Jim Stevralia in his office, in a PC taken off of the network. I did. It was 26 pages, a lot of percentages, and was a rather low-key document. No "Joan Crawford" or "Leona Helmsley" type passages.
Senior WP/Ventura/CAD operator and Basic programmer, WordProcessingCenter.

Responsible for WordPerfect 5.1 and Ventura Publisher; authored a multi-module file management program to archive and retrieve documents from a Novell network and locate "lost" documents (documents missing an identifying document number); programmed an attorney vacation calendar and an award-winning filings calendar program written in Microsoft Professional Basic Development System 7.1; developed WordPerfect macros for letters, memos and legal documents adopted as firm standard; created and maintained floor plans displaying office layout, locations of personnel and telephone/modem numbers using both TurboCAD and Floor Plan Plus CAD software ; assisted with "disaster recovery" when network or user problems occurred.
After creating a complete Windows network for a new law firm consisting of attorneys who left Squadron (Mintz & Gold), Squadron's partner in charge, Harvey Horowitz, came to their Grand Opening party and wanted to know who set up their system. When he found out it was Yours Truly, he called me into his office the next day, placed a can of Pepsi before me (I used to be practically addicted to it) and offered me the position of first Management Information Services Director for the firm. (In those days, the field was called "Information Services" not "Information Technology.")
I was also awakened in the middle of the night in 1993 to be shuttled into the firm's conference room to personally word process contracts as Rupert Murdoch (accompanied by his son) bought back the New York Post from the eccentric parking garage magnate Abe Hirschfeld. It led to my greatest claim to fame—showing Murdoch the location of Squadron's Men's Room!
AT&T BELL LABORATORIES, Crawfords Corner Road, Holmdel, NJ
1990 to 1993

Consultant and Multimedia Programmer.

Consultant and multimedia programming relationship with Bell Labs' Media Design Studio (led by Doug Kirby) for special IBM platform-based projects, such as presentation programs distributed on diskette and information kiosks.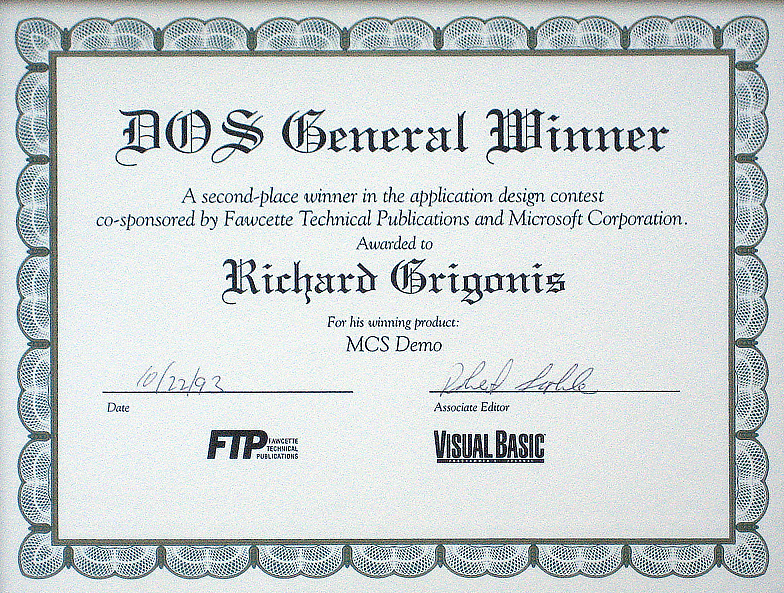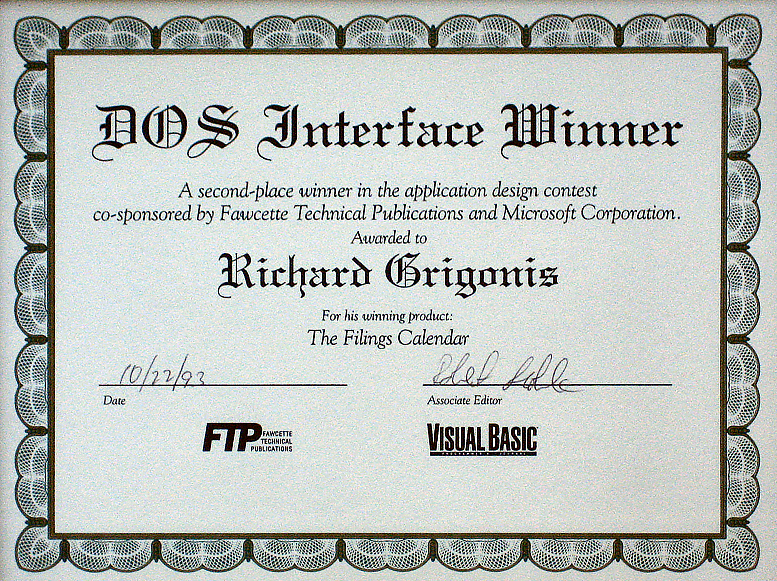 PEAT, MARWICK, MITCHELL & CO., 345 Park Avenue, New York, NY
September 16, 1985 to February 20, 1987

Wang operator, Tax Department Word Processing Center.

Edited documents, learned DataEase database program, wrote Wang Decision Processing programs to exchange data between databases and Wang WP environment.
CHILDREN'S TELEVISION WORKSHOP, Sesame Street Production Dept., New York, NY
January 1, 1980 to September 10, 1985

Production Assistant/Senior WP Operator/Production Coordinator.
Various production and production coordination activities: Began with word processing of Sesame Street scripts, VTR segments, cut bits, logs, calendars; timed shooting scripts against video tapes; developed WP programming (written in Wang Decision Processing Language) for Sesame Street Production and International Departments, the later utilizing mathpack functions, sort utilities. Typeset 3-2-1 Contact Study Guide, which was an early example of daisy wheel printer-based typesetting. Assisted in conversion of video taped programming from Ampex 2-inch wide format to 1-inch format and construction of database on Wang VS100 super-minicomputer. Production Coordinator on "Please Don't Eat the Pictures; Sesame Street at New York's Metropolitan Museum of Art," where I got to work briefly with writer Tony Geiss in the office of the Coordinating Producer, Caroline Kennedy (yes, that Caroline Kennedy).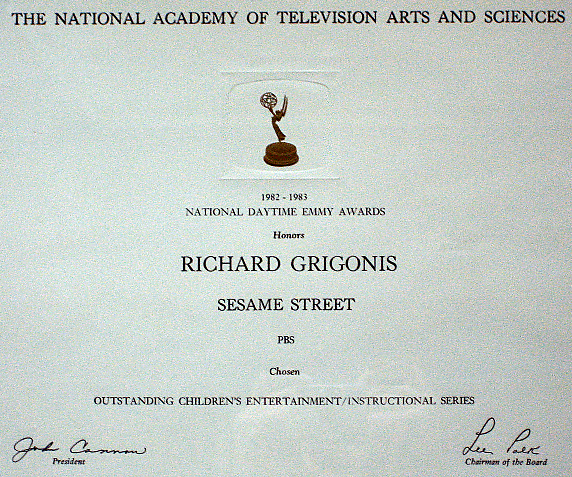 EDUCATION:
ROWAN UNIVERSITY, Glassboro, NJ
B.A. Journalism, Magna Cum Laude, June 1978. Concentrations in art history, public relations, communications, cultural anthropology and physical paleoanthroplogy.

ACTIVITIES, HONORS AND ORGANIZATIONS (COLLEGE):

Covered special on-the-record Presidential news conference held at the White House for 200 collegiate journalists selected from around the country, March 3, 1978.
Editor and Layout & Design director of Venue, college's information and humor magazine.
Sesame Street wrap party, December 1984. Can you spot Yours Truly? I'm the second person standing to the left of the Sesame Street sign, wearing an open jacket and plaid shirt.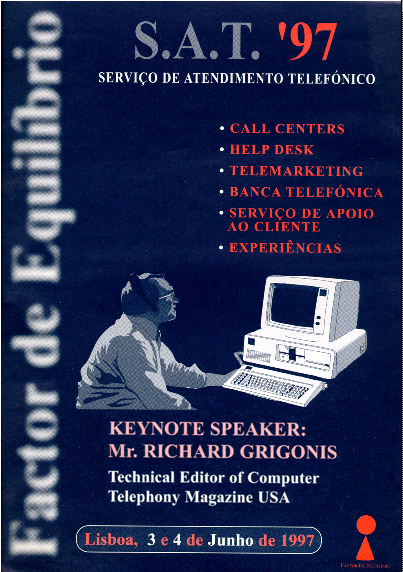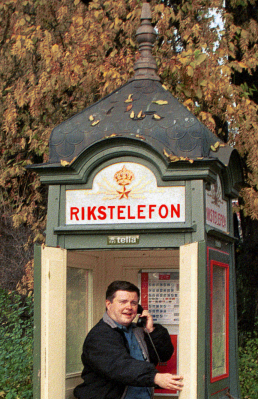 On my first visit to Stockholm, Sweden. Photo by Karl Butler.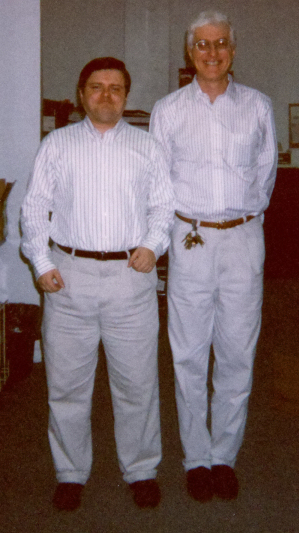 March 1997. Harry kept Rick Luhmann and myself in his giant 19th street condo for several days so we could put together the huge 280 page March issue of Computer Telephony to be distributed at Computer Telephony Expo. I ran out of clean clothes, so Harry thought it would be funny to send a servant out to buy clothes in his style but in my size, then dress me up to look like him and take a photograph – yes, long before Austin Powers, I was the first Mini-Me. Photo by Karen Ricci.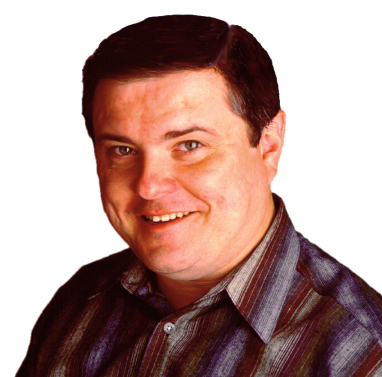 Nearly all of my publicity photos of the 1990s and early 2000s were taken by Daniel S. Baliotti, who had been one of the world's great sports photographers of the 1970s, and who then branched out into fashion and other types photography, eventually winning seven design awards. He taught Harry Newton photography in a class back in the 1970s and briefly worked for Harry's Telecom Library in the late 1990s. He had one of the few Nikons in the world with a motor drive that could take 11 frames a second, part of a small batch built by Nikon for select photographers shooting the 1974 Olympics. I've always been a fan of Canon equipment, so Dan and I have had some spirited Nikon vs. Canon discussions over the years. This photo, taken in Dan's studio, is definitely my favorite. He took it with a medium format Bonica 645 and Fuji Provia 100 film.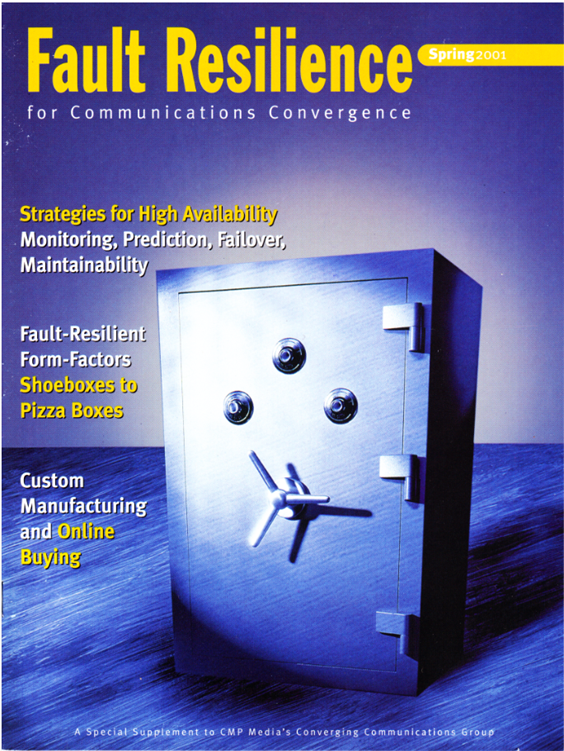 My Fault Resilient Computing supplement included (polybagged) with Communications Convergence (formerly Computer Telephony) Magazine, 2001.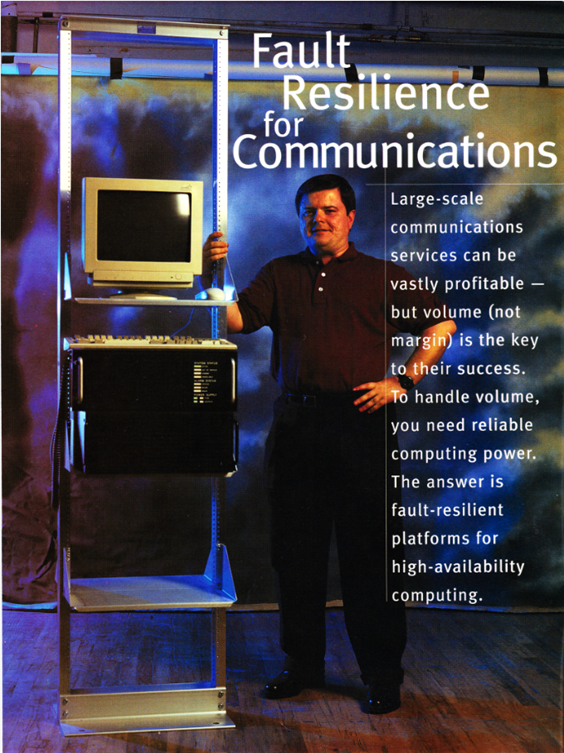 Photo for the 2001 Fault Resilient Computer Supplement taken by Daniel S. Baliotti.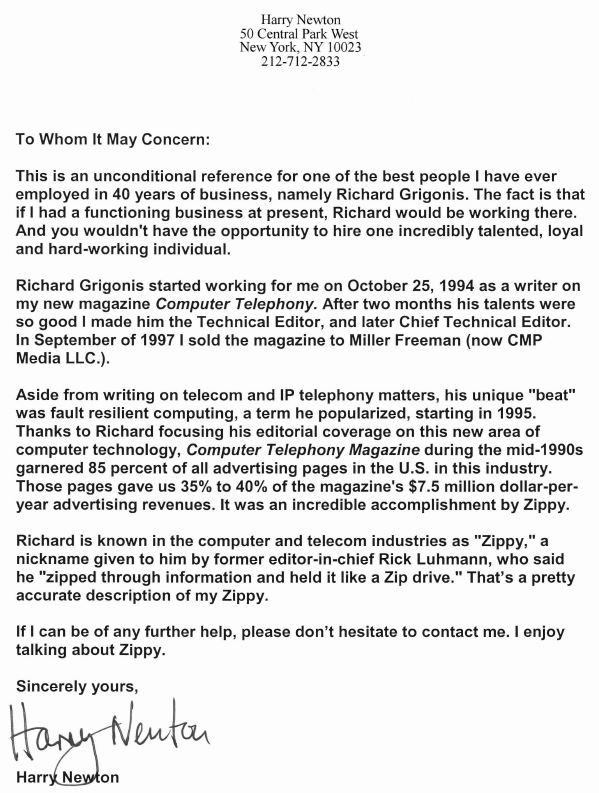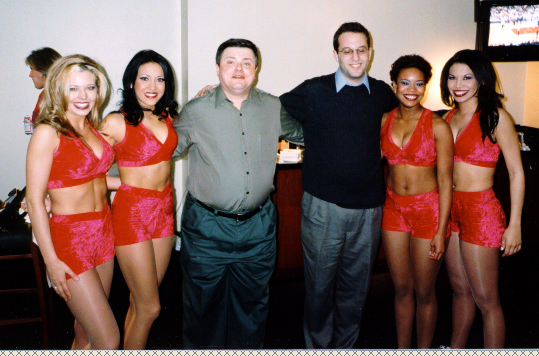 A Ziatech party in a private box in the Los Angeles Staples Center during a basketball game, March 6, 2000. Happened to be Shaquille O'Neal's birthday, who was playing that night. Cheerleaders stopped by to say hello to myself and colleague Bill Michael.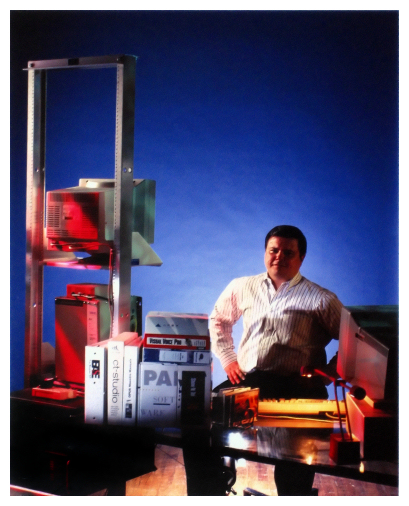 Photo for my article on computer telephony application generator software packages. Photo by Daniel S. Baliotti.