Youth
I've been a denizen of New Jersey all of my life. Although I was raised in Nutley and lived there until 1967, I was born in Passaic.
Meet the Parents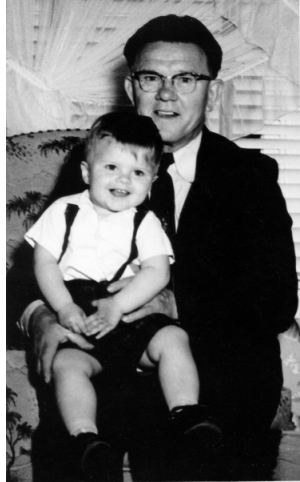 My father, William Vincent Grigonis (December 1, 1901 - September 1, 1981), was born in a little village called Balciezisky (or "Bellerisky") near Wilna (or Vilna), in what was then Poland, near what would have been the Lithuanian "border". ("Border" is something of a misnomer – because of incursions by Russia, Prussia and the Hapsburgs, Poland and Lithuania would not be re-established as independent countries until 1918.) The name "Grigonis" is in fact Lithuanian (it means "Gregory the Watchful"), one of a group of Slavic-influenced names apparently derived from Christian saints' names, with phonological adjustments. Such names tend to be originally Greek or Latin but they came into Lithuanian via Slavic. In the case of Grigonis, it consists of two elements: the first Grig- is certainly from Grigas (eventually going back to Gre-yorius), with the Lithuanian patronymic suffix -onis 'the son of, descendant of.' (However, as Antanas Klimas of the University of Rochester has written, "there is some doubt whether this suffix is really Lithuanian or Baltic: it may be formed from Proto-Indo-European 'AN', with some non-Baltic influence; that is, all old Slavic borrowings into Lithuanian show their long 'a' reflected in Lithuanian as a long 'o'.")
Although the name Grigonis is Lithuanian, the family spoke mostly Polish, with the exception of my grandfather, Rafail (or "Raphal") Ivanov Grigonis (who later unaccountably picked up the name of "Michael"), who also spoke Lithuanian and Russian, and my father, who also spoke a little Russian. (Amusingly, there is a small town in present-day Lithuania named "Grigonis," practically on the Latvian border, at 56.3211 degrees Latitude and 23.93167 degrees Longitude.) Some relatives on my father's side are from Belarus. In our case, a Polish family at one point married a male with a Lithuanian name, so, going back a previous generation or two, each side of the family would probably have slighted the other, since there were Polish/Lithuanian rivalries. Lithuanians are not actually Slavic, but distinctly Lithuanian, and speak a language that hasn't changed much in 1,000 years. Indeed, Sanskrit scholars can recognize most Lithuanian phrases. Lithuania was originally a country that dominated the Baltic region, having defeated the Teutonic Knights at Battle of Tannenberg (Grunwald) in 1410. It was the last nation in Europe to convert to Christianity, having originally worshipped a sun goddess and her daughters, among other deities. Interestingly, since Lithuania had not been conquered up until that time, its conversion to Christianity was done as a result of diplomacy. Supposedly during their conversion to Christianity, some Lithuanians were converted by Greek missionaries, who gave them new Greek-sounding names (sounds like a bit of a yarn).
Raphal's wife, my great-grandmother, had a brother (named Kelkevich or Kolkevich) who moved to South Africa shortly after the Boer War, believing that the country afforded great opportunities (such as raising ostriches for their then-fashionable feathers, and what-not). He died of cancer in 1957, but his two daughters married well. One married a fellow named Lachs, the other married a man named Meinhardt. One of them owned a chain of furniture stores, the other a huge cattle ranch.
After being conscripted to fight in the Russian army and experiencing a nasty time battling the Mongols, my grandfather decided in 1907 to desert the Czar's military forces. Military police-types soon burst into my grandmother's home announcing to her that the minute my grandfather returned, he would be shot. They had no idea that he was already on the premises, hiding under the bed as they spoke, having arrived long ahead of them by simply taking the new trans-Siberian railroad. The family fled the country, first my grandfather in 1907, and then the rest of the family, passing through the port of Hamburg, Germany – not surprising, since about 30 percent of all European immigrants who came to America traveled through Hamburg.
By 1910 the family was now living in Glen Ridge, New Jersey, where Raphal (Michael) became a chauffeur for wealthy families in the towns of Glen Ridge and Montclair, New Jersey.
My father was Marine back in the early 1920s, stationed in Quantico, Virigina. He marched in Warren Harding's funeral procession in August 1923. In the fall of that year, he was stationed aboard the USS Swan (AM-34/AVP-7), a Lapwing-class minesweeper based of Quantico, Virginia and patrolling the Potomac River. A physical fitness buff, he defeated the amateur wrestling champion of Germany in a match staged by the Marines and the German Amateur Athletic Association. He had occasion to meet General Biddle and General Butler. After Pearl Harbor, at the age of 40, he enlisted in the U.S. Army. He was stationed with the 70th Division at what was then Camp Forest, near the town of Tullahoma, Tennessee. Even at the age of 40, he managed to regularly come in second place on the obstacle course. While on maneuvers in the hills he would collect pieces of petrified wood and strange looking rocks and send them home, which ultimately led to a passion in building Japanese rock gardens. (All of the artistic types are on my father's side of the family, such as my older half-brother Robert – one of our family members who spells our name with an "e" as in "Gregonis"). My father worked for a fellow who owned a couple of oriental rug stores, then for the Pierce Arrow Motorcar Company, then for General Motors for the next 33 and 1/3 years, retiring in 1967. During his lifetime one of his stranger hobbies was as an amateur investigator of the occult, interviewing psychics and "rating" them as to their accuracy. As his nearly 80-year lifetime drew to a close, he claimed he had met only a single "seer" who he judged to have absolutely genuine psychic abilities. That was Florence Sternfels (died 1965), "Florence of Edgewater," who was perhaps the 20th century's greatest "psychometrist" (a person who can "read" people by touching objects belonging to them).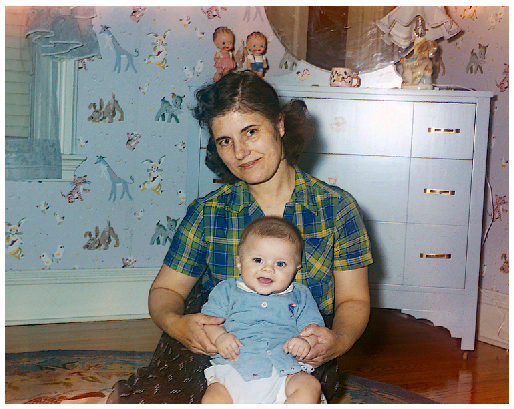 My mother, Louise M. Di Servio (July 14, 1913 - June 28,1969), was from a totally different background, born in Camden, NJ (they lived on Pine Street) to a well-to-do family who were distant descendants of Napoleon Bonaparte – we often forget that, centuries before Corsica, the Bonapartes were minor nobility in Florence, Italy, and spelled their name with a "u" and an "o" as in "Buonoparte." Napoleon was born "Napoleone Buonoparte." (One of my aunts is the expert on the family's genealogy. My great-grandfather was, I was told, the mayor of Rome.) She recalled famous visitors to her private school while living in West Orange, including Thomas Edison. After the 1929 crash, the family moved to West Orange, NJ. She later earned a degree in theology from the American Baptist Home Mission Society's remarkable though little-known International Baptist Seminary, which flourished from 1921-1941 in East Orange, New Jersey. She had originally planned to become a missionary, but while at the seminary she met the man who would become her first husband, a Czechoslovakian named Victor Medla. He was apparently quite a talented fellow (he spoke several languages and could play seven musical instruments). They decided to remain in America.
Now named Louise Medla, she became one of the few female corporate executives in the 1930s and 1940s, thanks mostly to her near photographic memory and idiot savant-like abilities when it came to numbers. She could do all sorts of mathematical computations in her head at lightning speed without the need for a calculating device or even a scratchpad. Moving to Nutley, NJ with her husband Victor (who would tragically die in his 30s of a heart attack), she soon became the chief statistician for one of the big insurance companies, Metropolitan LIfe in Newark, NJ. After she left the job to give birth to Yours Truly and became a housewife in the 1950s, her old boss would stop by the house to beg her to come back, since the company had replaced her with six other women, but the department was floundering. Ultimately, in the 1960s, the company ended up buying an electronic computer, replacing the human ones they had used previously. (I believe it was an IBM 1100 series, with 48 Kb of memory, equivalent in computing power to a 1979 Atari 800, but costing a hefty $1,200 a month to lease from IBM. Some other insurance companies replaced their human computers with huge Burroughs machines.)
Because of her mathematical abilities, she was called upon during World War II to work on the Manhattan Project as one of their "human computers" (as opposed to the electromechanical variety). It was allegedly physicist Richard Feynman's idea to break up the mathematical "grunt work" on the bomb into 80 pieces, each of which would be sent to a mathematician somewhere in the United States. If any piece fell into enemy hands, it would be meaningless. This makes sense since historians now know that, as a junior physicist on the project, Feynman spent most of his time managing the computation group of "human computers" in the Theoretical Division of the project, led by Hans Bethe. Another "human computer" in that division, a student named John G. Kemeny, was at one point a research assistant to Albert Einstein, later became president of Dartmouth and invented (with Thomas Kurtz) one of the first computer languages, BASIC.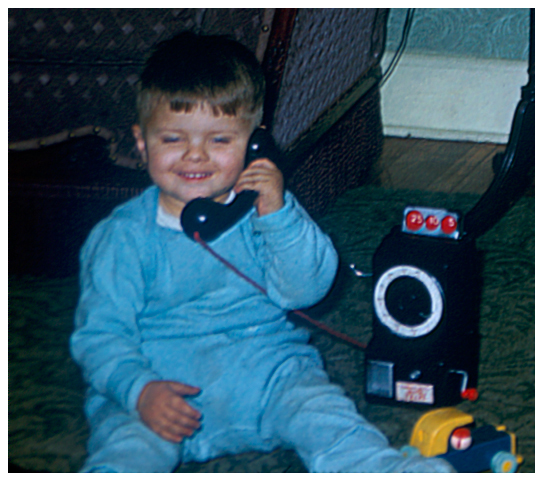 Since Mom had a home, a car, a dog and a pretty good job (for the time), she had no intentions of journeying to Los Alamos. A courier carrying materials to be computed would periodically arrive to deliver them at her home at 81 Hillside Avenue in Nutley (coincidentally just a few blocks from the young Martha Stewart's home at 85 Elm Place, and a few more blocks from where General Eisenhower would drive up from Washington, D.C. to visit his aunt (by marriage), have dinner, help do the dishes, and play some bridge with the locals. (Conicidentally, his wife, Maime, had a cousin in Nutley who owned a chicken farm. The Eisenhowers rarely played bridge together, owing to his temper—Dwight would yell at Maime.)
The first time the courier from the Manhattan Project arrived with the mathematical problems to be solved (relating to the production of fissionable material for the Bomb), he asked, "Mrs. Medla, when shall I come back for the results? A week? Ten days?" She replied, with perfect aplomb, "If I make you a cup of coffee, could you take a seat in the living room for half an hour? You can leave with the results." Recounting the story shortly before her death, she recalled the look of astonishment on the fellow's face.
Mathematical estimation techniques were used to speed up calculations on the project, and Mom soon discovered some sort of accumulating error appearing in the calculations. She enclosed a note describing the problem and received a note back, from she claimed, Feynman himself. Years later, she described its contents along the lines of, "Thank you for spotting this ridiculous error. You have done us a great service. I thought it was funny, but our Dr. von Neumann, who is visiting us and who is normally a jovial fellow, did not." In retrospect, I find it difficult to believe that Feynman would reveal the presence of anyone other than himself on such a project, let alone the great John von Neumann, but then the young Feynman was quite an irreverent character, picking locks and breaking into secret files to leave amusing notes out of sheer boredom. In any case, Mom apparently destroyed the note immediately. If it still existed, it would probably be worth quite a bit of money in an auction on eBay – or Sotheby's, for that matter.
Around the time of the Cuban Missile Crisis, Mom stopped talking about her role in the Manhattan Project. Whereas some people had committed suicide over their guilt in having developed the Bomb, my mother's only concern was that what we would call today a Mad Max-like, post-apocalyptic lynch mob would point her out and yell, "There's one of the people who worked on the Bomb! Let's string her up from the nearest tree!" Needless to say, Louise "never heard of atomic anything" after 1962.
My mother met my father at a church picnic and they were married on Thanksgiving Day, 1949 (to make sure he would never forget the wedding anniversary, she would say).
The way her brain was wired, Mom did not suffer fools gladly. An egomaniac, she would sit in the living room and curse at contestants appearing on the Jeopardy! TV show, admonishing them for not knowing that First Council of Nicaea was held by the Emperor Constantine in A.D. 325, and other assorted facts and trivia. She was also quite greedy at times and was a bit of a tightwad when it came to handling money. For those readers who subscribe to the theory that a kind of cursory psychological analysis can be done by analyzing word frequencies, the word "spite" often appeared in her spoken syntax.
She also did go a bit crazy toward the end of her life, when she realized she was dying of breast cancer. She passed away in 1969.