College Hijinx

Covering President Carter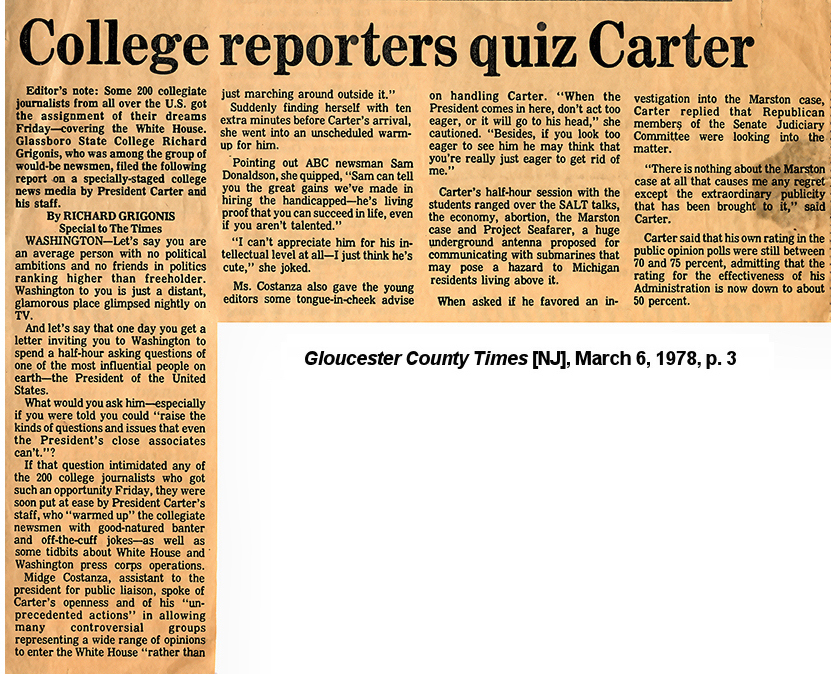 It was the start of a long weekend in early February 1978. Yours Truly, then a senior at Glassboro State (later renamed Rowan University) was hanging around the college's Bureau of Student Publications, in the office of Venue, our college's "humor and information" magazine, of which I was a writer, columnist and layout & design editor. As I was going through the daily mail, Robert Hartlein of our college's newspaper, the Whit, popped in and started up a conversation.
Suddenly, I realized that I was holding in my hand an invitation to the Whit for an on-the-record news conference for college journalism students with President Jimmy Carter.
"Bob, you're in luck! You're the only one here from the Whit and you can call in an accept this incredible invitation to meet President Carter in Washington! Here's the phone number to call them."
Bob looked worried. "I don't think I should be so presumptive," he said. " I should clear this with the editors. One of them will almost certainly want to go."
"By the time they come back, all of the spots will have been filled," I replied. "You've got to act now!"
Bob was still reticent, so I said, "Hell, I'll call them myself." I did, and accepted the invitation.
At that point, Bob suddenly decided he wanted to go too. So we called back and, amazingly enough, Bob secured an invite too, representing Venue. We were now in the strange position of representing each other's publications in Washington!
Just before Hartlein and I traveled to our nation's capital, I thought I would have bit of fun with the editors of the Whit. At one of their layout sessions, I sauntered in and said, "Oh by the way, I'll be talking with President Carter next week. You want me to ask him anything?"
After a few snickers and annoyed looks by the editors at my obvious breach of decorum, not to mention overall sanity, one said, "No, that's okay. We're fine for the next issue."
Bob Hartlein looked like he wanted to hide under a desk.
Bob and I took the train to D.C. and ended up saying at a Travel Lodge, taking our meals at an adjacent Chinese restaurant. We both ordered T-bone steaks, much to the bemusement of our Chinese hosts.
On the morning of the media event, March 3rd, about an inch of snow fell on Washington. That doesn't sound like much, but to a southern city such as Washington, 0.9 inches of snow can bring the entire metropolis to a halt, and it did. All of the taxis were busy, so Bob and I started out on foot. We soon found a bus idling, its driver preparing for the daily routine. I decided to attempt to commandier the bus.
Bob and I jumped aboard the empty vehicle. I looked the driver directly in the eye and exclaimed with a straight face, "Take this bus to the White House!"
The driver sat there, looked at these two suited teenagers and pondered the situation for a moment.
"You know, I've got to go in that direction anyway. I'll drop you off."
Fifteen minutes later, a bus pulled up to the White House and the two of us got out. (Today, of course, such a thing would be impossible, what with the barriers and vigilant armed guards watching for any vehicle straying from strictly regulated routes.)
The news conference was actually being held not at the White House, but at the Old Executive Mansion nearby. We checked in with a fellow at a desk there and got in line with 200 other student journalists from around the country (and one older journalism professor who somehow got in).
While standing in line, I readied the three Nikkormat cameras I had signed out from the our college's audio visual department. One camera was equipped with a 28mm wide angle lens. The second camera had a 50mm "normal" lens. The third had a 110mm telephoto. I arranged the straps so that all three would hang in front of me, one above the other, so I could quickly grab whatever type of shot I needed.
I decided to get down on the floor and take a photo looking up at the line of people.
A security fellow, spying my antics, got behind me and started glaring. I played it cool after that.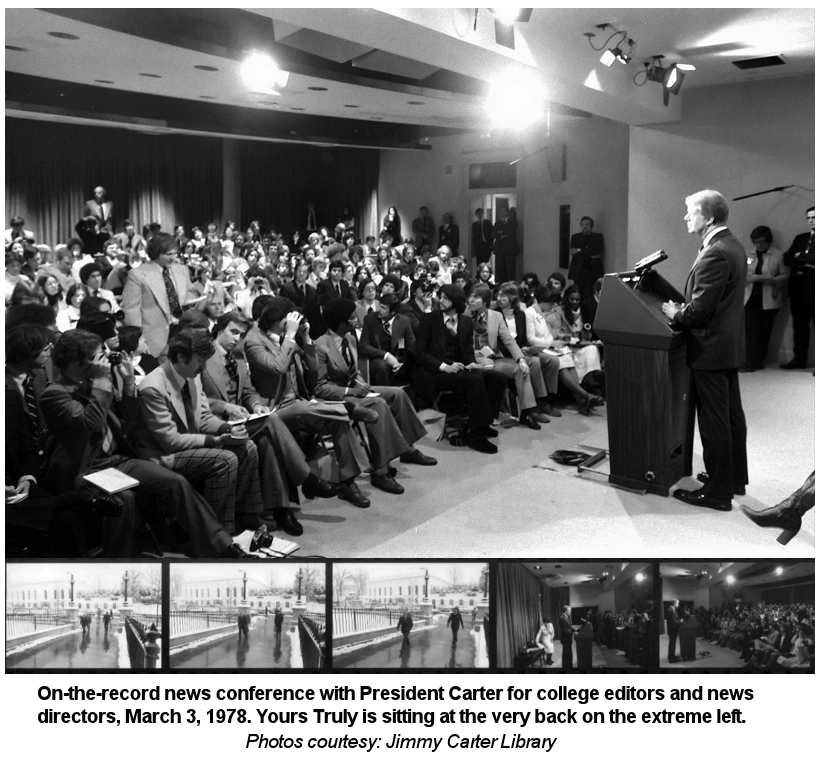 At the appropriate time, we were all led in to an auditorium and, before Carter came out for his half-hour Q&A session, we were subjected to a long series of speeches and Q&A sessions with various other members of the administration, such as Midge Costanza, assistant to the President for public liaison. Some "real' reporters were in attendence too, such as Sam Donaldson of ABC News. I alternately sat and took notes, or stood up at the very back of the auditorium, snapping photos.
No Recordings!
Just before kicking off the student media event, it was announced that "no recordings are permitted." Since I had brought along a small, innocuous cassette recorder with me, I thought nothing of turning it on and placing it on an adjacent chair. I checked the recording level and everything was okay. Partway through the event, I needed to momentarily place the recorder on the floor as I arranged my notes and film canisters on the chair. I then picked up the recorder and put it back on the chair. Fortunately, I checked the recording again. Strangely, the tape that previously sounded okay was now blank! I now ignored the government speakers and instead focused on this fascinating mystery. With the recorder still on the chair, I made another recording and played it back. The sound was fine. I then took the recorder off of the chair and placed it on the floor for a few seconds, then put it back on the chair and played back the cassette. It was again blank! I made a recording on the chair and played it back. It was fine. I took the cassette out of the recorder, put it back, and played it. It was fine. I then took out the cassette and, still holding it with my hand, waved it near the floor. When I placed the cassette back in the recorder and played it—it was blank!
Ah ha, I thought, they have magnetic degaussers under the floor of this auditorium! Degaussers are simply wire coils through which an alternating current is sent, thus generating a corresponding alternating magnetic field that can be used to "bulk erase" magentic recording tape and computer disk drives. Obviously, when the White House says, "No recordings," they really mean it!
Mr. Photographic Memory Arrives
Finally, President Carter made his appearance and started answering questions from everyone, even the old professor who somehow snuck in.
Elsewhere on this site, I mention the fact that my mother had a photographic memory. Readers of this may be surprised to learn that Carter has one too. You can introduce him to 100 or more people in rapid succession, and when it comes time to leave, Carter can say goodbye to everyone by name in equally rapid succession!
Carter demonstrated his memory abilities by adroitly handling questions on literally every problem in America, no matter how strangely "local" to the questioner. That's what really impressed me— 200 people asking about 200 local gripes. The whole situation illustrated the old adage that "all politics is local".
Aftermath
After the special media concluded, Bob Hartlein and I returned to Glassboro, where we each wrote stories for our respective publications, much to the surprise (almost downright horror) of our generally stupified editors. I even wrote an article about it for a local paper (reproduced above). It was the first thing I ever published "professionally".
As for Robert Hartlein, he became a journalist and writer, first for Women's Wear Daily in New York City, and then as a freelancer for major celebrity magazines and newspapers, including the National Enquirer. He's interviewed dozens of stars, including Oprah Winfrey, Susan Lucci, Olivia Newton-John, Kathie Lee gifford and Brooke Shields' ex-husband, tennis great Andre Agassi.
Hartlein became a celebrity news item himself when he went to a nursing home in Old Tappan, New Jersey and checked out Teri Shields, mother of Brooke Shields, and took her shopping. Brooke was furious when she found out that the nursing home had let a reporter 'extract' her Mom from the facility to run some errands. Even so, Bob had been personal friends with Teri Shields for 10 years. Brooke and the Enquirer eventually settled their disagreement over the incident. The Enquirer issued an apology and made a "generous" donation to The American Academy of Neurology Foundation. Their statement reads, in part, "It was never the intention of the reporter, the photographer or anyone at the National Enquirer to cause harm to anyone." They also said that the "police investigation revealed no wrongdoing by the National Enquirer" but add that they "apologize for alarming Brooke Shields."
The Bigfoot "Expedition"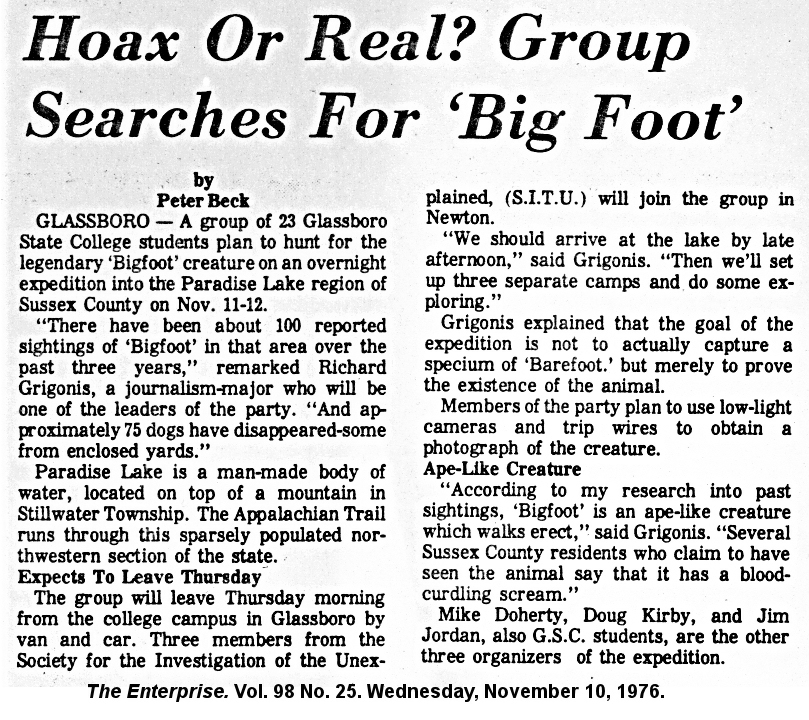 What do bored college students do as an excuse to get drunk in the woods?
Organize a Bigfoot hunt, of course!
At least that was the alluring scenario I used to get students to accompany me on one of my few Ivan Sanderson-like "investigations into the unknown." The date: November 11 – 12, 1976.
New Jersey, the most densely populated state in the U.S, doesn't sound like a place where one would encounter North America's answer to the Abominable Snowman, but, strangely, enough, there was a rash of sightings of "something" in the wilds of Sussex county in the 1970s.
One fellow who said he "had it all figured out" was Jay Adams, a local amateur investigator—not that there are many of what you would call "professional" investigators in this field. Adams hailed from my former home of Crandon Lakes. He claimed to have seen Bigfoot several times. He said that in April of that year (1976), he had seen a family of five of the creatures near Limecrest, Sussex County.
"The creatures basically live in the Great Bear Swamp," said Adams. "There are sightings of them emerging from the swamp near Lake Owassa, crossing Route 521 and running up into the Kittatinny Mountains. The creatures use the mountain ridge as a sort of highway, running along it and then at intervals they make their way down to the lake communities, where they've been sighted foraging through garbage cans and grabbing about 75 dogs in total from backyards in the area. People use the ridge too—the Appalachian trail runs along it, near the top. Anyway, when hunting season starts, the creature goes northeast along the ridge and then down into Stokes State Forest."
We decided to make our camp at a spot singled out by Adams for strange goings-on: a small pond that Adams called "Paradise Lake," situated a few hundred feet from the Appalachian trail in a slight depression almost at the top of a mountain situated not far from my former home at Crandon Lakes. To get to it you have to drive away from Quick Pond on Lake Owassa Road (Co-Road Rt. 617) then make a right onto an umarked road called Mullins Road that leads up one of the mountains past a few isolated homes, turns into a dirt road and then, not far from the summit of this particular 1600-foot mountain, you make a left and drive down a short, steep rock face to a level area beside the "lake" (actually a pond about 120 feet long and 50 feet wide). A sort of natural causeway separates the pond on one side from a small swamp on the other. A nearby trail on the east side runs along the east edge of the mountain—one slip and you fall over a clift—allowing for a spectacular view of Hampton Township, Quick Pond and Crandon Lakes (at the lower left field of view), as well as Swartswood Lake and much of Sussex County. I was never sure if "Paradise Lake" was the name of the little pond, or of an actual somewhat larger lake that existed farther along the ridge to the southwest. For all I know, it may have been a name Jay Adams had made up himself.
In any case, "Paradise Lake" is not on any map but can be found at approximately -74.86419 degrees Longitude, 41.13003 degrees Latitude (it is New Jersey state land in Stillwater township) at an elevation of about 1,150 feet, nearly 400 feet southeast of the Appalachian Trail. Thanks to the modern miracles of Google and satellite photography, I have reproduced a photo of the location on this web page.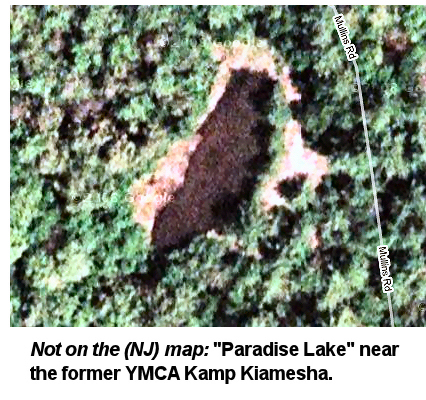 Down the mountain from Paradise Lake was the summer camp called Kamp Kiamesha (it would close in the 1980s), owned at the time by the Newark, New Jersey, Young Mens Christian Association (YMCA) and constructed as a summer retreat in 1909. A few hundred feet from the campgrounds' chapel were the remains (stones and pottery shards) of the John Synder estate, uncovered by campers in the 1940s. Eleven members of the Syder family had been massacred by Indians there about 200 years ago. Indeed, the camp included the bucolic Quick Pond, named after the infamous Tom Quick, one of the more scary figures in early American history. Born in 1733, Quick's family had been among the earliest white settlers along the Delaware River. The Quick family had emigrated from Ulster county, the descendants of respectable and affluent ancestors who came over from Holland prior to 1689. Quick acquired some valuable lands at Milford, Pennsylvania, where he built a log cabin, and settled down with the Indians for neighbors. He depended largely on hunting and fishing for his subsistence. Although Quick's father owned a grist mill, young Tom preferred to learn the local Indians' hunting techniques and roam the hills along the Delaware. Initially, Tom Quick and the local Indians got along quite well sharing the catch of day, as they fished along the river.
Even with the onset of the French and Indian War (1754 – 1763), the Quick family didn't realize that their relationship with the local Indians was about to change drastically. Tom Quick and his family were fishing on the river one day when Indians in full war paint and armed with rifles suddenly appeared. They shot Tom's father and wounded Tom in the leg. Other Quick family members, unhurt, dragged Tom to safety. Now returning to find their father, they saw the Indians scalping the unfortunate fellow and cutting off his head. At that moment Tom Quick swore revenge against all Indians on the Delaware. Amazingly, two years after the French and Indian Wars, Tom Quick was drinking at a tavern on the Neversink (a tributary of the Delaware River—its name derives from an Algonquian language phrase meaning "mad river"), when he met an intoxicated Indian named Muskwink, who boasted of killing a white man along the Delaware, and produced the silver buttons that Tom's father had worn on his sleeve. Quick, considerably inebriated himself, removed a musket from its place on the wall, marched the Indian outside the tavern and shot him in the head, then went back inside, finished his rum and left town.
Tom Quick continued to massacre Indians at every opportunity thereafter, even Indian babies. Quick even managed to annihilate the local Indian population from beyond the grave. According to the handbook: Tom finally died of smallpox. The Indians discovered his grave, dug him up and held a pow wow over the corpse. This caused the smallpox to spread among the tribes, resulting in more deaths than Tom had ever hoped to effect while alive. (Other legends say that, when Quick realized he had contracted smallpox, and would rub blankets on his body then give them to the Indians.)
Kamp Kiamesha also had the typical "campfire legends" of Judge Cropsy, who kept the dismembered parts of prisoners he sentenced to his on-premises jail, in the basement, and "Three-fingered Willie," the tale of a young boy and his brother who steal a chicken from a butcher, who kills the brother and chops off two of Willie's fingers before he could get away. Willie was said to be found wandering in the forest in a dazed state asking for his brother or if someone would play with him, and is placed in a mental hospital. The yarn ends with Willie escaping the asylum in during a storm, and "to this day" he wanders about the woods grabbing food and clothes.
No bigfoot tales, however.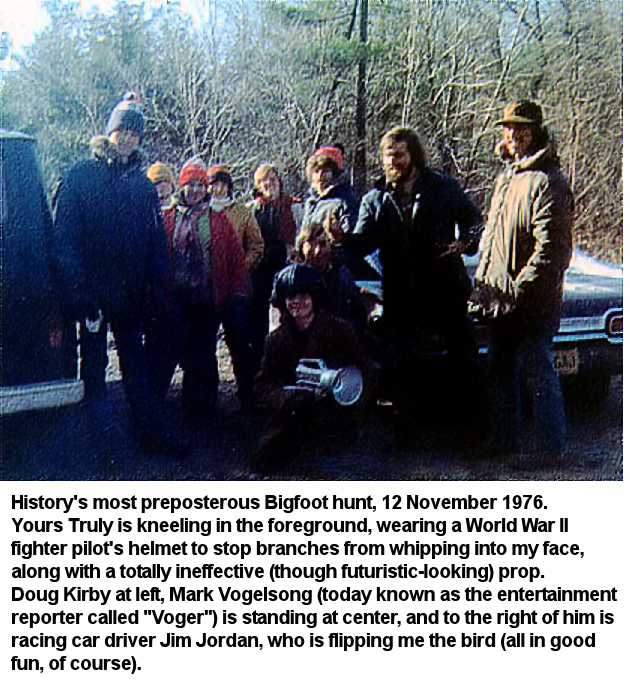 The Arrival
We arrived in the late morning by van and several cars and set up camp. The "leaders" of this expedition were Yours Truly, Doug Kirby (how of www.roadsideamerica.com), Jim Jordan (now a racing car driver and employee of the Mazda Corporation) and Mike Doherty (who later joined the Green Berets' Fifth Special Forces Group). The second-tier "executive command" included Ken Smith (now an author and radio personality) and Mark Voglesong (now an entertainment reporter and cartoonist known professionally as "Voger").
Kirby expressed the group's general sentiment that, "If anybody gets hurt, we call it 'The Grigonis Expedition'."
Jim Jordan's uncle was a general in the Air Force, and we thought we could get a "night vision" device from him, which at that time was quite a technologically advanced novelty. But that didn't pan out. As it got dark, Kirby remarked that, "Bigfoot could walk in out of the woods and sit down next to our campfire, and we'd never be able to photograph him!" He was right. The fastest color film we had available in those days was Ektachrome 160, and the fastest black-and-white film was Tri-X (ASA 400).
Moreover, it was starting to get cold, so I turned to Mark Voglesong and said, "Voglesong, you will help me prepare a personal fire." We began to collect branches and twigs, but the results were not spectacular on that cold November evening.
The Madness of Crowds
By 9:00 p.m. it was dark (indeed, it had been dark since a little after 5 p.m.), and I noticed that our intrepid student volunteers were obviously not teetotalers. Still, they were sober enough occasionally throw some branches on the campfire.
Suddenly, a member of our party called out, "What's that?" A light was just barely shining through the trees.
"I don't know what it is," someone else said. "It's weird!"
As the minutes passed, the light crept farther up in the trees and got brighter.
The camp began to panic.
Soon I heard, "Do we have any weapons?" It just so happened that, aside from some camera equipment, Doherty had brought some considerable firepower with him in case Bigfoot didn't want to come along quietly. But he and Jordan were in the van, a hundred feet away, towards the light.
People began to scatter, taking up positions farther in the woods. The light appeared to be right over the rocky "ramp" leading into the area, blocking our way.
After about a half hour of intense speculation and scurrying about, we finally could identify the mysterious light. It was the Moon! Not even a full Moon, but a "waning gibbous" Moon wherein 81 percent of the Moon's visible disk is illuminated.
I decided to quietly leave our giants of adventure at the campfire and make my way around the periphery of the lake to the van.
I stopped, in shock. There, 50 feet before me in the darkness was the faint silhouette of a large bipedal form. Oh no, Ivan Sanderson was right! Bigfoot roams the American woods! I screamed!
Back at the camp, Smith asked Kirby (who was trying to get some sleep), "What on Earth was that noise?" His low-key reply, "That's just Richard screaming." And with that he took a nap.
The "large bipedal form" turned out to be none other than Doherty, who was wearing a thick "snowmobile suit" to insulate him from the cold, and which also made him look like the legendary beast.
Doherty took a deliberate pose to make him appear to be the creature, knowing it would set me off. He was thoroughly amused. I followed him back to the van where Jordan had fired up a small propane heater belonging to Doherty.
Music of the Spheres
While in the van we became aware of a strange, tinkly, "fairy harp" sound overlaid with a repeating three-note diatonic base line (C, D, E) that seemed to emanate from the vehicle's
dashboard. At first we thought it was coming from outside the vehicle. Jim Jordan, Mike Doherty and Yours Truly each took turns getting out and listening, but the sound was inside, not outside. We made sure the radio was off. We checked for any other devices that could be making the sound. Nothing.
Interestingly, at dawn the next the day, the music began to fade, almost synchronized with the rising of the sun. After the expedition, Jordan and Doherty drove the van to Doherty's home and waited to hear the music to again try to figure out what it was. But it did not return.
Later on, speaking with my father, he pointed out a similar incident that had happened shortly after our house in Crandon Lake was built, around 1961 or '62. I had almost completely forgotten about it. There was no heat yet in the house, so my father, mother and I were sleeping in our 1954 Pontiac. The same random "tinkly," "fairy harp" sound overlaid with the same repeating three-note diatonic base line (C, D, E) seemed to emanate from the car's dashboard. My father thought there was something wrong with the radio, and even went so far as to unhook the car's battery, but the sound continued unabated until dawn. As I was a small child at the time, I wasn't paying much attention, since I was trying to get some sleep.
Upon further reflection, I also recalled hearing the sound around 1972. I was sitting in the now-furnished rec room in the basement of our Crandon Lakes home, with a picture window facing the Kittatinny Mountains (upon which is "Paradise Lake", the site of our 1976 encampment). The door was open to the garden, and I heard the "music" wafting through the breeze for about 20 or 30 seconds, then it was gone. At the time I thought it was music from a neighbor's radio.
Amusingly, I am reminded of the old Irish legends of the "fairy people" or Sidhe, who are said to generate similar music. Indeed, as Lady Wilde (1826 – 1896) wrote in her two-volume work, Ancient Legends, Mystic Charms, and Superstitions of Ireland (London: Ward and Downey, 1887, pages 29-30): "It is remarkable that the Irish national airs—plaintive, beautiful, and unutterably pathetic--should so perfectly express the spirit of the Ceol-Sidhe (the fairy music), as it haunts the fancy of the people and mingles with all their traditions of the spirit world."
The Irish legends also mention that these Sidhe like to manifest themselves on top of tall hills or short mountains. As it happens, Paradise Lake and the Kittatinnies fit that description perfectly.
Obviously, ultra-dimensional music-makers prefer quiet seclusion!
Three Visitors
I decided to nap in spite of the music, but I woke up briefly as Doherty rolled down the van's window and talked to some strangers outside. When I woke up I was told that three "Van Cleefs" had emerged from the darkness—literally out of nowhere—and asked us, "Are you okay? Are you stuck?" After we assured them everything was fine, one of them, noticing that there were all guys in the van, mused, "Hey, the chicks are over there, what are you guys doing in this van?" They chuckled, and then they disappeared back into the darkness from whence they came.
In actuality, from the safety of the van we were waiting to see if Bigfoot would attack what was turning out to be intoxicated undergrad "bait." In my semi-slumber, I fantasized that photos of such an incredible event would have launched my journalism career, and could even have led to a Pulitzer Prizem if only there was more light. As it was, the guys at the campfire were all asleep and the ladies, in a pleasantly revealing cold weather survival exercise, were warming themselves by unbuttoning their shirts to catch heat from the fire, essentially toasting themselves and revealing more female anatomy in the process than one might normally expect.
Dawn of the Second Day
The second day dawned and things appeared to be back to normal—at least until we heard a series of booms in the distance. They sounded like they were coming up the mountain.
Somebody said, "Oh, by the way, I think hunting season starts today." And I was wearing a brown coat.
We decided to quickly break down the camp and head back to the campus. Like our legendary furry friend, we were now fleeing the area.