Past Entry in Zippy's Telecom Blog
October 30, 2009

Nitty-Gritty Department. A talk with Eric Gregory, senior product manager, RadiSys, on ATCA 4.0 and why the world's networks need 40 Gigabit per second switching.
On October 26, 2009 RadiSys® Corporation (NASDAQ: RSYS), a global provider of embedded computing solutions for telecommunications and other industries, announced the RadiSys ATCA 4.0 initiative, the company's 4th generation of AdvancedTCA (ATCA) products designed to support the next generation of high bandwidth applications. RadiSys ATCA 4.0 equipment supports an astonishing 40 Gigabits per second (Gbps or Gb/s) on the backplane and in switching configurations.
The AdvancedTCA form factor itself was formulated as a high-end computing platform used by telecom carriers and service providers. It is in many respects the successor to the CompactPCI technology of the 1990s.
To determine exactly what RadiSys is up to, Yours Truly had an in-depth conversation with RadiSys ATCA Senior Product Manager, Eric Gregory. Prior to his role at RadiSys, Gregory spent 10 years at Nortel in its wireless business unit, serving in various roles in product management, marketing, and sales where his primary focus was wireless data applications. While working on wireless data, Gregory held positions in Paris, London, and Latin America, where he assisted wireless operators such as Vodafone and O2 with the deployment of 2.5G and 3G wireless services. He holds an MS in Telecommunications from the University of Colorado.
RG: Yours Truly was a big proponent of 10 Gbps Ethernet on the backplane back in the 1990s, so I'm feeling a bit of déjà vu when it comes to 40 gigs. Tell me about what RadiSys is up to.
EG: On October 26, 2009, we announced the industry's first integrated 40 Gigabit per second [Gbps] ATCA platform, a fourth generation platform we call ATCA 4.0. ATCA 4.0 includes a 40 Gbps switch as a well as a 40 Gbps chassis. There have been 40 Gbps announcements in the industry lately regarding a system component such as a chassis or backplane. But ATCA is a whole platform, not just a component or two. When we looked at providing 40 Gbps ATCA technology, we wanted to announce "the whole enchilada" if you will. We wanted to start off with a whole 40 Gbps platform, rather than just introduce components piecemeal. For example, there have been no announcements about node or hub blades for ATCA. Ours is the first.
A couple of other things in our 40 Gig announcement are extremely important to us and our customers. One is inherent investment protection. We wanted to make sure that customers that had previously invested in our products would not be left stranded. Also, we wanted to ensure that there would be a carry-through of our existing ecosystem, because we have many good partners that help us provide a complete platform with whom we want to continue forward. I'll get to that in a moment.
RG: Most of the arguments for 40 gigs center on bandwidth boggling applications such as video.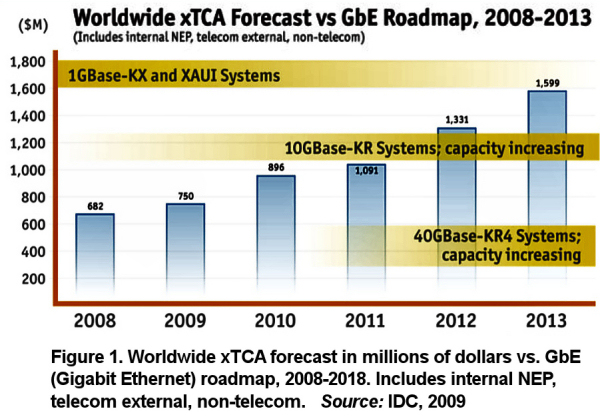 EG: Everyone in the telecommunications industry these days is talking about how everything is shifting towards session-based communication and how data usage is going through the roof. Appearing along with this "hockey stick growth curve" in bandwidth usage is the increasing use of video to mobile devices. Video in general will become a significant portion of the traffic. You'll continue to see significant growth in this area and even today we see significant growth. It has a tremendous impact on network elements and platforms such as ATCA. Even though our customers may be dealing only with the front-end of the packet itself, and they may continue to do the same sort of thing for some time into the future, the bandwidth required as our customers migrate from, say, a voice application to a video application, is having a significant impact on the network. Figure 1 demonstrates this. Back in 2007 and 2008, we began seeing a lot of 10 Gbps XAUI -based systems entering the marketplace. [XAUI is a standard for extending the XGMII (10 Gigabit Media Independent Interface) between the MAC and PHY layer of 10 Gigabit Ethernet (also known as 10GbE, 10GE, or 10 GigE). XAUI is pronounced "zowie," a concatenation of the Roman numeral X, meaning 10, and the initials of "Attachment Unit Interface".] Most systems today use either 1 Gbps or 10 Gbps XAUI and I suspect we'll continue to see 10 Gbps in the market for a while, which is demonstrated by the graph. However, around 2010 or 2011 we'll witness a transition in the technology utilized in these platforms.
First of all we'll see 10GBase-KR technology, which is 10 Gbps serial, and then there's the 40 Gbps KR4—we'll be seeing those systems appearing in the market from 2011 on. [Currently, of the various 802.3 standards relating to 10GbE that have been published, 10GBASE-KX4 and 10GBASE-KR or "Backplane Ethernet"—also known by its working group name 802.3ap — is used in such copper backplane applications as blade servers and routers/switches with upgradable line cards. The standard provides for two different implementations at 10Gbps: 10GBASE-KX4 and 10GBASE-KR. 10Gbase-KX4 uses the same physical layer coding (defined in IEEE 802.3 Clause 48) as 10GBASE-CX4. 10GBASE-KR uses the same coding (defined in IEEE 802.3 Clause 49) as 10GBASE-LR/ER/SR.] The 10 Gbps KR and the 40 Gbps KR4 will be new additions to the PICMG standards. They've been talking about them since 2008. We're expecting some sort of ratification in the second quarter of 2010 although 40GBASE-KR4 may be added into the revision at a later date. As a manufacturer of platforms, RadiSys must be able to go to market sooner with our equipment so that developers can build such network systems in order to hit the milestone marks on the timeline. That's really what our announcement is about. It enables our customers to make those technology decisions today so that they can roll out those platforms in accordance with the generally accepted timelines.
RG: So in a sense you've managed to bring forth a package, not just a single component prototype. You need all sorts of components to make up a system, and you need 40 Gbps on the backplane and 40 Gbps connectivity to some or all of the node slots, whether it's 4 individual 10 Gbps serial connections, or 4 bonded 10 Gbps connections in a link aggregation scenario, or an integrated multi-lane distribution delivered through a single port.
EG: Yes, RadiSys' ATCA 4.0 is a comprehensive next-gen platform. If you recall, ATCA 3.0 was all about achieving 10 Gbps on the backplane. Now, ATCA 4.0 is all about 40 Gbps.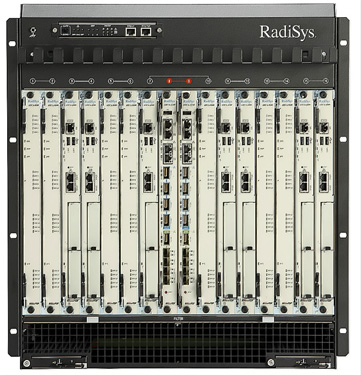 The 40 Gbps platform itself consists of the chassis and the switch. The other key component of this scenario is the investment protection. Our new 40 Gbps switch and chassis will be validated with all of our existing products. Even customers who have deployed our equipment can start their transition to 40 Gbps, knowing that we'll protect their investment moving forward and we'll do this in a couple of different ways, which I'll describe in a moment.
Another interesting thing we're going to do is accelerate utilization of the ATCA ecosystem. This is expressed in two ways: First, on the hardware side, which is fairly obvious. Second, the software side. RadiSys actually leads the market in using a number of different players in the ecosystem. For example, we have relationships with all three of the middleware players, OpenClovis, ENEA and GoAhead Software. We use the Wind River OS. So, the ecosystem will not only be revalidated as part of ATCA 4.0, but we're actually going to expand it. Last week we made an announcement with 6WIND Software and Aricent, about how we're all going to collaborate on an LTE [Long-Term Evolution wireless] vertical application. So that's the sort of ecosystem expansion that we're betting is going to keep on happening.
Some Help from Some Friends
EG: RadiSys can deliver quite a bit on its own, but the complete platform is made possible thanks to our partner products that seamlessly integrate with our technology to form a complete, feature-rich platform. I already mentioned the three middleware companies with which we deal. In terms of control plane processing and data control processing, we work with Aricent and 6WIND. In terms of the hardware platform, our RadiSys Promentum consists of DSPs from Texas Instruments and Freescale, storage technology from Astute Networks and SANBlaze, Intel CPUs, Broadcom switching and Cavium Networks' Network Processing Units [NPUs].
In particular, I really want to talk about our platform management, which encompasses both shelf and blade management. We expend quite a bit of effort in these areas. Shelf management is handled by our Shelf Manager and IPMI [Intelligent Platform Management Interface]. All of the components we use today on the existing ATCA 3.0 system are going to carry forward into ATCA 4.0. So one of the key things that we wanted to make certain of is that, if a customer has already deployed with our 10 Gbps system, and his application is growing in popularity, he may soon need to move to ATCA 4.0. We can ease that transition for him. We do much more than just a "flash cut" and start software development all over again, we have devised Investment Protection that provides a smooth migration from one platform to the next.
Here's a glimpse of our internal thinking on the subject. RadiSys discussed internally the manufacture of a 40 Gbps platform for quite some time. We methodically formulated all of the key requirements:
• One of these, of course, is the Investment Protection I just mentioned. We have many platforms out there in the market right now and obviously we're not going to upgrade every single board within a year's time, so we had to ensure that customers running existing applications would be able to take advantage of our next-generation platform. That was extremely important for us.
• The second requirement we came up with was the 40 Gbps backplane itself with full node connectivity to all of the slots that support 10 Gbps KR as well as 40 Gbps KR4.
• Third, to support those capabilities, we also needed a hub switch capable of delivering both 10GBASE-KR and 40GBASE-KR4 switching to each of the node slots.
• Fourth, node slots capable of supporting next-gen packet processing and CPU processing capability. Because of our position in PICMG involving ATCA, we get previews from many of the various silicon players, and many of those guys are experiencing much of the same growth that we are in video and other higher bandwidth applications. We're seeing higher throughputs and higher power being used. We took all of these things into consideration when we built our ATCA 4.0 platform strategy, to be able to allow our customers to take advantage of those next-gen capabilities.
• Finally, overall, we wanted to ensure that the platform demonstrated a 4x performance improvement to deliver on throughput, increased power consumption and the next-generation processing capabilities.
RG: It appears that you've tackled quite a few things simultaneously.
EG: Yes, it's not just a matter of increasing the speed. I should sum up all of the things of which our 40 Gig platform is capable.
On the chassis itself, the backplane can support 40 Gbps to all the node slots. We also will upgrade the power and cooling capabilities of existing chassis so that they can support 300 watts.
The switch itself can deliver 40 Gbps switching, and supports 10 gig XAUI. It's backward-compatible to existing node blades. We'll have increased front and rear I/O, beyond 10 Gbps and well beyond anything that's out in the marketplace today. We also offer the option to support 40 Gbps I/O via QSFP [Quad Small Form-factor Pluggable, or QSFP, is the next-generation hot-pluggable interface for high performance switches, routers, servers and host bus adapters for computing and telecom applications. As of 2009, it's the world's most compact, 4-high speed channel, Z-axis pluggable interface. With its four channels of 10 Gbps each, it is perhaps the most practical solution for 40 Gbps applications such as quad 10 Gbps Fiber Channel, Gigabit Ethernet and InfiniBand (QDR).]
As for the software itself, as I mentioned, we are going to carry forward with all of our existing platform management software that we have in place today on our 10 Gbps platform: Shelf Management and IPMI, and Switch Management.
Introducing the Node Router
EG: We're also going to add what's called a Node Router. We noted that some our customers were buying a 1U [1.75-inch high] switch or router to include as part of their rack. This router did nothing more than provide connectivity to an edge network. Well, because we already have some Layer 3 capability, we're actually building upon that and the expectation is that we can fold that access router into the ATCA platform itself, thereby allowing our customers to forge a direct connection between an ATCA platform and the edge network, saving some additional costs thanks to the increased capability of our next-generation switch.
To Sum Up….
EG: 4G wireless and video will have a huge, widespread impact on the network, not only in terms of the type of applications that the customers will be using, but specifically the increased bandwidth required. That in turn affects what our customers demand in terms of the kind of platforms needed to run their applications. As we map things out into the future, the key thing to keep in mind is that customers need to make technology decisions today in order to start hitting those market targets 18 to 20 months out.
Thus, our RadiSys 40 Gbps platform provides a step increase in performance and it also provides investment protection so that customers can either port from what they have today, since we can provide them with a nice transition, or they can actually start off-the-bat with 40 Gbps.
One final point: RadiSys led the charge on 10 Gbps. It's not easy being out in front. You have to make a lot of decisions that customers themselves aren't necessarily ready to do. But because of our leadership in 10 Gbps, we're going to apply that same expertise onto the world of 40 Gbps. That's why we're making this announcement—to revalidate our position as the leader in ATCA platforms.
RG: Next up, 100 Gbps!
EG: That's a ways down the line, but yes, time and technology inevitably march on.