Past Entry of Zippy's Telecom Blog

October 7, 2009
The Service Availability Forum Continues to Evolve in a Changing Marketplace; an Interview with Asif Naseem, President, SA Forum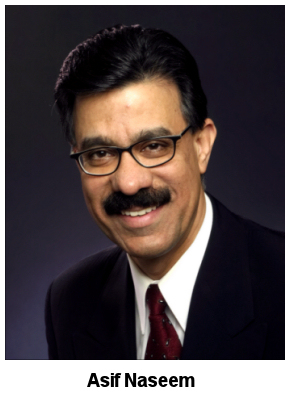 The Service Availability™ Forum (www.saforum.org) is a consortium that develops, publishes, educates on and promotes open specifications for carrier-grade and mission-critical systems. Yours truly can recall when the group started out under the moniker "High Availability Forum" in 2001. Along with its first (March 14, 2001) press release, it provided a report titled "Providing Open Architecture High Availability Solutions." At the time, Yours Truly (who was chief technical editor of Computer Telephony magazine) was quoted in the release as saying, "High-end hardware and software running the world's communications infrastructure demands 99.999 percent reliability, which is a matter too serious to be left to the inexperienced."
Now, in 2009, the SA Forum specifications enable an ecosystem of best-of-breed software components designed to be employed in carrier-grade systems, thus reducing the need to develop proprietary software solutions to meet the High Availability (HA) requirements in the demanding telecom environment. SA Forum members include everything from hardware platform vendors to providers of operating systems, high availability middleware, systems management software and databases, protocol stack providers, etc.—companies including Alcatel-Lucent, Emerson Network Power, Enea, Ericsson, Fujitsu, GoAhead Software, HP, MontaVista Software, Nokia Siemens Networks, Oracle, and Sun Microsystems, to mention a just a few.
I recently caught up with the SA Forum's President, Asif Naseem, to see what was happening on the "fault tolerant" computing front.
RG: How would you describe the current state of the SA Forum?
AN: Since its inception in 2001, the SA Forum has successfully worked to create a critical mass of specifications for carrier-grade service availability. As you may recall, our fundamental charter is to create specifications that will allow for the high availability middleware to be a category of its own, just like operating systems, protocol stacks, databases, etc. That was our mission right from the beginning—to create interface specifications used to define a critical set of services that can be employed by system designers and application developers to create highly available applications and services. The SA Forum has been doing this for more than seven years.
Within the forum, we believe that we've reached a point where we have a critical mass of specifications. What we need to do now is help the industry catch up with the implementation of those specifications. There are two types of such implementations. One is for vendors such as GoAhead Software, Enea, Emerson and others: to develop middleware services that are based on the SA Forum specifications, both at the hardware platform level and at the application level. The other set is for application providers to begin implementing their applications with the SA Forum specifications.
RG: So you're releasing a kind of Application Programming Interface, or API, for the middleware.
AN: Exactly. We have an Application Interface Specification, or AIS, which is a set of rich APIs that could be used by an application developer within, let's say, Alcatel-Lucent, Nokia Siemens Networks, Ericsson or any other equipment manufacturer that is writing highly available applications. They would use these APIs to author a service or an application that will provide "five nines"—99.999 percent or better availability.
Recently, we've seen that implementations at both levels have actually begun to appear in the market. It's very encouraging that our work is being used.
Our HPI [Hardware Platform Interface], which is our platform abstraction layer, has been very successful. Most major hardware platform vendors either now have an HPI implementation or have plans to provide it. HPI has been a commercial success.
What we need to do is to ensure that the AIS—which is a more recent specification at the application layer—enjoys similar success. To achieve that, we have to educate the industry on what AIS is and provide some best practices on how to use the specifications and the software based on those specifications.
There are the equipment manufacturers and system manufacturers that must author their applications, but they also need other components, such as databases, application servers and protocol stacks, which have to be compliant with the same set of open standards. So, the next step is to make sure that we provide education to facilitate traction in those industries. To this end, we are now expanding the charter of the SA Forum beyond the development of new specifications and the update of existing specifications. Our new focus is to create educational material – including webcasts, webinars, case studies –that we can provide to our potential implementers to make it as easy as possible for them to actually start authoring applications.
Don't get me wrong; specification development will always be a key focus of the organization. SA Forum members believe that enabling development of systems and applications based on these specifications will accelerate industry adoption. Recently, however, we have taken a hard look at additional ways the SA Forum can successfully accelerate the investment in a COTS ecosystem. It is for this reason that the SA Forum has chosen to add another focus area to its efforts, that of education, as outlined in our enhanced mission statement, which is as follows:
The Service Availability™ Forum is a consortium that develops, publishes, educates on and promotes open specifications for carrier-grade and mission-critical systems. SA Forum specifications enable COTS ecosystems for highly available platforms, streamline development and accelerate time-to-market.
So, to summarize the way we are changing and evolving our charter, in addition to focusing on writing specifications, we're also working to ensure that we have the proper educational material and the correct focus on accelerating adoption in the marketplace, in a variety of verticals.
RG: What are the challenges that you are witnessing in the marketplace today?
AN: As end user demand for sophisticated communication services continues to increase, network operators have to find solutions that provide these services quickly and cost effectively. In today's marketplace, equipment manufacturers race to produce the platforms to enable these services. These equipment manufacturers have finite time-to-market windows, and they are hindered in meeting these goals by network complexity, shrinking budgets, tight schedules and evolving standards.
These challenges are catalyzing the migration to a new approach to developing highly available systems. COTS-based solutions provide choice and flexibility as well as cost, risk and time savings benefits. Given the current state of the marketplace, it only makes sense that there is a growing trend of adoption of solutions based on Service Availability Forum specifications.
RG: How is the adoption of SA Forum specifications going?
AN: Any implementer of SA Forum solutions will experience time and cost savings. For this reason, we are seeing growth in adoption by companies with stringent time-to-market goals. Additionally, companies seeking a common, application-ready platform make up a fast-growing segment of our market.
I should mention our very good marketing effort provided by our marketing workgroup, which is a formal workgroup that reports to the board of directors. Our marketing workgroup has been pretty good at helping key players in each vertical understand what it is that the forum does and what the cost benefit is for adopting our interfaces and using products that are commercial off-the-shelf, based on the SA Forum specification, versus implementing that functionality in-house.
RG: It sounds like the SA Forum is really functioning as more of a trade association these days, getting people out there to use your specifications. There's now a kind of marketing and branding element to all of this.
AN: That's a good way of putting it. Now that we have a critical mass of specifications as well as implementations, we need to take on the additional role to ensure the industry now adopts our work.
We have recently seen SA Forum specifications used in mission-critical applications in the Aerospace and Defense industries such as naval combat systems, defense radar control and satellite systems.
In general, SA Forum solutions have been successfully deployed in systems around the world in a variety of applications. Some examples of the application types include IMS [IP Multimedia Subsystem], Radio Network Controllers, Base Station Controllers, Media Gateways, Naval Combat Systems and Satellite Communication for commercial as well military applications.
RG: What's next for the SA Forum?
AN: With a new Application Webcast Series underway, we have begun educating the system and application development community on the service availability solution. The SA Forum will continue along this path, broadening its focus to raise awareness of applications based on existing AIS implementations. Also keep an eye out for updates and additions to our library of specifications for uninterrupted service availability.
RG: Thanks for the interview!
Voalté Adopted by Sarasota Memorial Hospital

On September 25, 2009 we looked at Voalté, a company that can harness the mobility and power of smartphones to serve in a hospital environment. On September 30, Trey Lauderdale, Vice President of Innovation for Voalté (pronounced volt), announced a newly established collaboration agreement with Sarasota Memorial Hospital that brings their advanced communication technology to nurses and other point-of-care workers. Voalté (a contraction of Voice, Alarm, Text) consolidates all three functions on the iPhone platform. The application enables users to send and receive text messages, make voice calls, and receive critical care alarms on the iPhone, providing faster response to patient needs.